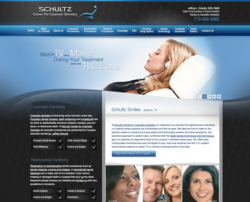 Houston, TX (PRWEB) September 07, 2011
A recent member poll by the American Academy of Cosmetic Dentistry (AACD) finds that cosmetic dental procedures such as teeth whitening and porcelain veneers have increased by up to 300% and 250% respectively in the past five years. Another recent survey by the AACD reported that 99.7% of Americans think a smile is an important social asset and 74% of Americans think an unattractive smile can adversely affect a person's chance for employment success.
Bellaire dentist Dr. Jeffrey Schultz of the Schultz Center for Cosmetic Dentistry says with the trend of reality TV shows and direct-to-consumer marketing of teeth whitening, more and more emphasis is being placed on dental cosmetics. He also adds that many patients are opting for a comprehensive smile makeover, combining multiple procedures to improve the aesthetic dental qualities of their appearance.
At his Houston cosmetic dentistry practice, Dr. Schultz says that undergoing a smile makeover can bring confidence to patients who have been uncomfortable showing their smile because of dental imperfections. He adds that choosing the right cosmetic dentist for a smile makeover can help give patients the results they desire and put them well on their way to enhanced self-esteem.
When considering a cosmetic dental practice for a smile makeover, Dr. Schultz says he recommends verifying whether the dentist has continued his or her dental education to keep up to date with the latest procedures. He also suggests looking for a staff that is passionate about finding a personalized and dedicated treatment plan for each patient. Ultimately, Dr. Schultz says it comes down to each patient's comfort with the experience and expertise when considering a significant procedure such as the smile makeover.
About Dr. Schultz
Dr. Jeffrey Schultz graduated from the University of Houston and the University of Texas Dental Branch at Houston, after which he opened his office in 1990. He is a Fellow of the Academy of General Dentistry and a graduate of the Hornbrook Group. Dr. Schultz was selected as one of the top dentists in H Magazine for 2009.
Located at 6565 West Loop South, Suite 860 in Bellaire, TX, the Schultz Center for Cosmetic Dentistry can be reached at (713) 664-6665 and online via their website schultzsmiles.com or facebook.com//pages/Schultz-Center-for-Cosmetic-Dentistry/134134999943002.
###