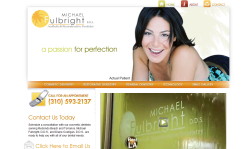 Redondo Beach, CA (Vocus/PRWEB) November 30, 2010
Redondo Beach cosmetic dentist, Dr. Michael Fulbright, is transforming his practice with an innovative patient management system, which creates a powerful network of current patients and enhances his ability to reach potential patients. The new electronic system allows Dr. Fulbright and his team to email or text office visit reminders to patients, which Dr. Fulbright says increases his ability to stay connected with his patients between appointments.
With the continuing success Dr. Fulbright has experienced in performing cosmetic and restorative procedures such as dental implants in Redondo Beach, he says the patient management system provides a much easier way to stay up-to-date with the ever-evolving landscape of mobile and internet-based communication with real-time reminders for upcoming appointments. Additionally, the software allows Dr. Fulbright and his team to process patient referrals more effectively, which inevitably means they are able to be more attentive to their patients.
With the new patient management system, Dr. Fulbright says he can more efficiently meet the needs of each patient from their initial experience with his Aesthetic and Reconstructive Dentistry practice. He adds that he is able to foster the growth of a social network based around his practice and the creation of beautiful smiles with cosmetic dentistry procedures such as teeth whitening or porcelain veneers in Redondo Beach. A social community Dr. Fulbright says he believes further enhances the patient-doctor relationship.
For those seeking cosmetic dentistry in Manhattan Beach, Redondo Beach, and the greater coastal areas of Los Angeles County, Dr. Fulbright says his ability to communicate with his patients between office visits not only supports his connection with them, but also improves patient care and scheduling by allowing for up-to-the-minute office visit reminders and real-time adjustments. Dr. Fulbright says implementing cutting-edge technology such as the patient management system ultimately leads to increased patient satisfaction, a unique dental experience, and healthy, beautiful smiles at his Aesthetic and Reconstructive Dentistry practice in Redondo Beach.
About Dr. Fulbright
Dr. Michael Fulbright earned his dental degree from the University of Southern California School of Dentistry. After practicing with renowned cosmetic dentist Dr. Brian LeSage, Dr. Fulbright obtained post-graduate training from UCLA in Advanced Aesthetic Continuum. He attends more than 100 hours of advanced continuing education courses in cosmetic and reconstructive dentistry to remain on the cutting-edge of dental technology every year. Dr. Fulbright is a sustaining member of the American Academy of Cosmetic Dentistry, the American Dental Association, and the California Dental Association, among many more.
Dr. Fulbright's Aesthetic and Reconstructive Dentistry practice is located at 1815 Via El Prado, Ste. 200 in Redondo Beach, CA 90277, can be reached at (310) 593-2137, or found online at either his practice website http://www.fulbrightdental.com/ or his Fulbright Dental Facebook page.
###