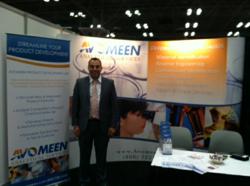 Deformulation is useful for cosmetics innovators who need to take a detailed look into an unknown product.
New York City, NY (PRWEB) June 29, 2012
From June 19-21, cosmetic industry professionals from all across the world visited NYC for the HBA 2012 trade show. Entrepreneurs, innovators, businesses and corporations alike stopped by Avomeen Analytical Services' booth to find out how a contract laboratory can help with cosmetic products.
The most popular topic in Avomeen's booth was deformulation, the testing laboratory's specialty service. Deformulation is a custom analytical service which involves separating, identifying, and quantifying the chemicals inside a product to provide a precise quantitative formula. This service is valuable in instances when an innovator needs to take a detailed look into an unknown product, including their own products, especially when produced by an external manufacturer, or for competitive analysis.
Avomeen also discussed services such as quality control, failure analysis, and method development & validation. There was special interest in failure analysis, which applies to the rare occasions when a product batch is manufactured with an unintended color, odor, or contaminant. Avomeen is able to use advanced instrumentation to investigate the issue, and provide the client with a detailed explanation of the contamination.
Thanks to the HBA trade-show, Avomeen was able to introduce the concept of deformulation to interested visitors with innovative products ranging from soaps, shampoos, detergents, lotions, and topical medicines, to liquid and powder make-up.