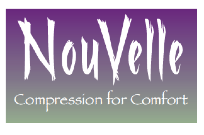 Our men's line in particular has been expanded in light of the higher numbers for male breast reduction. -Dawn Cover
Virginia Beach, VA (PRWEB) March 19, 2013
Nouvelle is pleased to announce its spring lineup of surgical compression wear, coinciding with new statistics released by the American Society of Plastic Surgeons (ASPS). In its 2012 Plastic Surgery Report, the organization indicates that plastic surgeries are indeed on the rise, with more than 14.6 million cosmetic plastic surgery procedures performed in the United States in 2012. This marks an increase of 5 percent since 2011.
According to the ASPS, Breast surgeries continue to be among the most popular procedures, with male breast reduction (gynecomastia) experiencing a 5 percent surge over 2011. Approximately 21,000 men underwent the popular procedure last year. Additionally, more facelift procedures were performed in 2012, up by 6 percent with a total of 126,320.
"We have increased production and fine-tuned designs to reflect the latest trends in plastic surgery," notes Dawn Cover, president of compression wear manufacturer Nouvelle, Inc. "Our men's line in particular has been expanded in light of the higher numbers for male breast reduction, and we recently introduced a new facelift product designed to help reduce healing time."
To date, sales of Nouvelle's newly released spring garments mirror the nation's top 10 cosmetic surgical procedures:
1. Breast Augmentation
2. Breast Implant Removals
3. Breast Lift (Mastopexy)
4. Breast Reduction (Aesthetic Patients Only)
5. Breast Reduction in Men (Gynecomastia)
6. Buttock Implants
7. Buttock Lift
8. Calf Augmentation
9. Cheek Implant (Malar Augmentation)
10. Chin Augmentation (Mentoplasty)
Nouvelle Inc., continues to see increases in bulk sales to distributors and physician practices throughout the world. "We find that our clients are primarily interested in providing quality products with a focus on safe, comfortable, and rapid healing results. It has been a pleasure working with like-minded health professionals who believe superior results can only be achieved by demanding quality at every turn. Recovery garments are vital to successful surgical results," said Cover.
About Nouvelle:
Nouvelle designs and manufactures post-surgical compression wear, body shaping garments, and scar care products for men and women. Based in Virginia Beach, VA, the company offers its products for distribution throughout the U.S.A. and abroad. With a strict adherence to time-honored sewing traditions not typically available in today's mass-production-focused market, Nouvelle's creations are only available through private medical practices, select surgical supply vendors, and its Virginia Beach store.
Distinguishing characteristics of the compression wear line include:
-Careful attention to every conceivable way fabric touches sensitive skin post surgery.
-Flat, durable, consistent stitching, so as not to aggravate incisions.
-Zippers and hook and eye closures that are carefully placed so they are never in danger of contacting healing skin.
-Not a single design uses wires or stays.
-Fabric that is soft, yet durable enough for long-term use and multiple washes.
-Safe fabrics made in the U.S.A. and free of formaldehyde and latex.
For more information about international distribution and sales, please contact Dawn Cover.