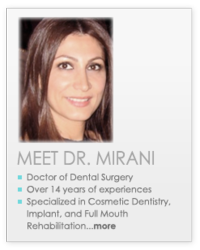 Beverly Hills, CA (PRWEB) March 20, 2013
A beautiful smile can play a major role in a person's success. According to the London School of Economics, attractiveness has a positive relationship with intelligence, and other studies have revealed that people tend to respond more favorably to those they deem more attractive. Beverly Hills dentist, Dr. Marjan Mirani, is now offering porcelain veneers that can be used to correct the appearance of damaged teeth and restore common smile flaws.
Dental veneers are thin shells of porcelain that are made to match the natural color of teeth but can be made to eliminate stains or discolorations. Once the natural teeth are prepared, the veneers are bonded to the fronts of teeth in order to provide a flawless, seamless finish and improve their appearance. As an specialist for porcelain veneers in Beverly Hills, Dr. Mirani, can use veneers to correct a host of aesthetic issues, including stains, chips, gaps, cracks and even minor misalignments.
If only minor staining is present, teeth whitening may also be an option. Whitening is used to eliminate common stains due to nicotine, cola, coffee, tea, wine, berries and other beverages or foods. Take-home whitening kits can allow patients to whiten their teeth with prescription strength whitening agents in the comfort and privacy of their own homes while in-office treatments provide powerful whitening action quickly and effectively in just one appointment. Dr. Mirani, Beverly Hills dentist, can further explain options so that patients can determine the treatment that is best for them. Invisalign aligners may be appropriate for patients who have more serious misalignments or malocclusions.
About Dr. Marjan Mirani, Cosmetic Dentist Beverly Hills
Dr. Mirani, specialist for dental implants in Beverly Hills, offers a full range of general, cosmetic and restorative dental treatments designed to improve, restore and enhance the health of your teeth and gums. Dr. Marjan Mirani is a graduate of the Universities of California San Francisco and Los Angeles and has more than 14 years of experience. She is currently a member of the California Dental Association and the American Dental Association, and she has completed her post-doctoral work in the fields of dental implants and full mouth reconstruction.
Contact
Dr. Marjan Mirani, DDS
462 N. Linden Dr., Suite 336
Beverly Hills, CA 90212
Phone: (310) 858-5933
Website: http://www.miranidds.com