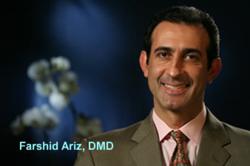 Northridge, CA (PRWEB) March 26, 2013
Dr. Ariz, Northridge dental implants specialist, is now offering complimentary consultations for patients considering dental implants. Having a dental implant placed is a delicate process, and it is important that patients are comfortable with their decision before they commit to the procedure.
Implants are metal rods that are typically made from titanium, or titanium alloy. These rods are implanted into the jaw, where the bone grows over them and heals. Once the bone and gum tissue has healed, the rod acts as an artificial root upon which a crown can rest.
Many patients prefer implants over bridges because of their many advantages. These implants are designed to last a lifetime. Although porcelain crowns may need to be replaced after a number of years, the implant itself should remain firmly fixed in the jaw. In addition, implants look and feel natural, and it is unlikely that anyone except the patient and the dentist will ever realize that the implant is not a natural tooth. Implants also require no special dental care.
The process for placing an implant is time consuming and can be costly, which is why Dr. Ariz, Northridge cosmetic dentist, urges patients to get a second opinion before they have the implant placed. The cost for an implant can vary widely from dentist to dentist, and dentists may differ in their opinions about the best type of implant to use. As a result, it is essential that patients have more than one opinion from which to judge their final decision.
About Dr. Farshid Ariz, Dentist Northridge
Dr. Ariz, Northridge dentist, is a periodontologist. He specializes in esthetic implant surgery, implantology, esthetic periodontal therapy, and full mouth reconstruction. Dr. Ariz graduated from the Boston University School of Dentistry in 1989, and he followed up with his Certification in Advanced Graduate Studies (CAGS) in periodontics. Dr. Ariz holds memberships in the American Academy of Osseointergration as well as the Medical Review Institute of America, Inc.
In addition to implants, dentists at Northridge Dental Group offer many cosmetic dental procedures, including teeth whitening and placing porcelain veneers. Contact Northridge Dental group today to schedule your complimentary consultation with Dr. Ariz, Northridge dental crowns expert, or to make an appointment for a different procedure.
Contact
Northridge Dental Group
Dr. Farshid Ariz, DMD
9801 Balboa Blvd.
Northridge, CA 91325
Phone: (818) 626-3388
Website: http://www.yournorthridgedentist.com