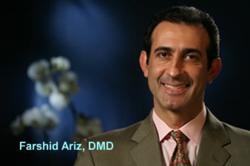 Northridge, CA (PRWEB) June 18, 2012
Tooth decay and damage to the teeth can happen in any situation to patients of all ages and ruin an otherwise completely perfect smile. Fortunately, there are now solutions out there. Dr. Ariz, Northridge dentist, and Dr. Arami from Northridge dental group are now offering a full line of restorative and cosmetic dental services so that all locals can once again enjoy a bright, healthy, and complete smile. You can visit YourNorthridgeDentist.com to learn more about these treatments.
Even those that take extremely good care of their mouth will often experience damage and decay at some point in their life. Whether it is due to trauma to the face or a buildup of plaque and tartar on the teeth, damage is not only unsightly, it can lead to other problems if it is not treated immediately.
Northridge Dental Group has quickly become one of the leading multi-specialty practices throughout the state of California. Their friendly and experienced staff offers various dental services for those that would like a quick checkup or a full mouth restoration. Patients that are currently suffering from tooth decay or damaged teeth can now enjoy a transformed smile with services such as dentures, porcelain veneers, dental crowns, dental implants, and more.
About Dr. Arami, Northridge Invisalign Provider
After graduating from the University of California, Los Angeles School of Dentistry, Dr. Shahdad Arami quickly become a highly sought after Northridge cosmetic dentist due to his devotion to every single one of his patients. From Zoom whitening to Invisalign aligners, patients can now achieve the bright and straight smile of their dreams with the assistance of this dental specialist.
About Dr. Ariz, Northridge Implant Dentist
Dr. Farshid Ariz remains a proud graduate from the prestigious Boston School of Dentistry since 1989. He and the rest of the staff at Northridge Dental Group work closely with each patient to ensure they get the treatments that they need to stay as healthy and happy as possible.
Contact at Northridge Dental Group
For more information about these services, visit at Northridge Dental Group at 9801 Balboa Blvd in Northridge, CA 91325. You can also call (818) 626-3388 or visit http://www.yournorthridgedentist.com.