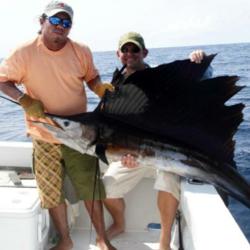 Overall I'm super happy. We came here - our first tournament ever - and had a great time and learned a thing or two about tournament regulations etc. while at the same time we came away with 10th spot.

Chris Atkins, CRFP Founder
Quepos, Costa Rica (PRWEB) March 06, 2013
The date was set. The gear was in order and the team from Costa Rica Fishing Pros were ready to descend upon Quepos - along the Central Pacific in Costa Rica - for what was destined to be the most exhilarating and eventful fishing tourney to kick off the 2013 season.
Over the past six years the team at Costa Rica Fishing Pros have caught boatloads of roosterfish, huge tarpon, dorado, danced several times with the lady in the blue dress, and released more sailfish than they can count. They've seen it all - caught it all. There was only one thing left to try...enter their first billfish tournament.
February 7th to the 9th were the dates and the stage was set for one of the most exciting fishing tournaments of the year, the Quepos Billfish Cup 2013. But there was one thing the team didn't expect - unlike on charter fishing trips, in a tournament the mates are not allowed to touch the rods - only the anglers can.
With just weeks to go before the tournament that meant that Justin and Chris Atkins (founder of Costa Rica Fishing Pros) had to get a crash course on hooking their own billfish without the help of the mate.
The boat for the tournament was a gorgeous 60' Viking named Chaser. Captain & owner Brent Moyer hails from Arizona, but has been fishing in Mexico for decades until he brought his operation and experience to Costa Rica in 2012.
The first day (Thursday) saw the team from Costa Rica Fishing Pros (CRFP) land six sailfish worth 600 points while Day 2 was a skunk aside from two small dorados too small for even weight points.
However a turn-around occurred on the 3rd and final day of the tournament that would see the team land another six sailfish for a tournament total of 12 sailfish and 4 dorados - totally 1222 points and placing Team CRFP solidly at 10th spot.
This is how the tournament would end - the team from Costa Rica Fishing Pros (CRFP) would secure 10th overall. Founder of CRFP, Chris Atkins had this to say about the event...
"Overall I'm super happy. We came here - our first tournament ever - and had a great time and learned a thing or two about tournament regulations etc. while at the same time we came away with 10th spot. Not too shabby considering this was our first entry to any sort of official tournament."
The guys at Costa Rica Fishing Pros are already looking ahead to next year's Quepos Billfish Cup and are confident their showing next year will be stronger yet.
Costa Rica has become a mecca of sorts when it comes to bluewater big game fishing and hosts a handful of top ranked fishing tournaments throughout the country each year.
To book the most thrilling and exhilarating Costa Rica fishing charter of your life, visit the guys at CRFP and check out their newly designed web site at http://www.vacationscostarica.com/fishing/.
About Costa Rica Fishing Pros (CRFP):
Costa Rica Fishing Pros is a division of Costa Rica Vacations company CRV that provides custom Costa Rica vacation packages to travelers looking for something unique as opposed to the "one size fits all" approach of their competitors. Since 2005, Costa Rica Fishing Pros has lead the way for fishing charters throughout the country winning numerous accolades along the way. For more information on CRFP, please call 1-866-901-0638 or visit http://www.vacationscostarica.com/fishing.