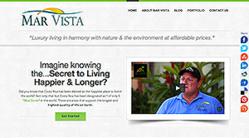 People respond to sincerity and the immense success we are witnessing at Mar Vista is because we come from the heart.
Playa Flamingo, Costa Rica (PRWEB) March 06, 2013
Hidden away in the hills just above Playa Flamingo is the incredibly successful sustainable Costa Rica retirement community of Mar Vista.
Never before has there been a project more ecologically in-tune with their surroundings than that of Mar Vista. Whereas other projects might tout big dreams and visions of what their project might some day be, Mar Vista has already accomplished.
The property currently features a fully operating community with onsite K-12 International bilingual school with 220 students from across 20 different countries, asphalt roads, self-sustaining onsite water, electric and even a world-class community clubhouse.
The clubhouse at Mar Vista is a sight to behold. With a breathtaking infinity pool overlooking the pristine beaches of the Gold Coast of Guanacaste, the community centre is a beehive of activity for resident families of Mar Vista.
Additionally they've aligned themselves with one of the areas most reputable and talented restauranteurs Bryan Campbell who originated from Florida however decided that the hectic life of back home wasn't for him - Bryan chose the "pura vida" life.
The Club @ Mar Vista is an incredible location to enjoy sunset dining, family fun with volleyball courts and even a huge trampoline, or even if you simply want to come on up and have quick dip in the pool, either way there's good food, good views, good friends which all equals...good times.
"People respond to sincerity and the immense success we are witnessing at Mar Vista is because we come from the heart. Our vision was to create a sustainable community where people can live in paradise at an affordable price." stated PM Alejandro Berkowitz.
With the 2013 season kicking off with 8 new homes under construction to add to the existing 3 homes already built, the team at Mar Vista are anticipating a productive year as more people discover the natural beauty, affordability and lifestyle that Mar Vista offers.
About Mar Vista:
"Since it's inception, Mar Vista has been committed to ethically sourcing new and sustainable materials and design ideas to support the premier eco-community of Costa Rica. Today, with more than 80% of Phase I sold out, the community of Mar VIsta stands testament to the idea of a fully sustainable community dedicated to living a healthier and longer life in paradise at an affordable price.
Through our unwavering commitment to excellence and our guiding principles, we bring the unique Mar Vista experience to life for every resident. To share in the experience, please visit us online at marvistacr.com."