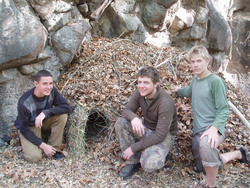 This experience is amazing. It brings you out of the new and into the old. Nature's beauty consumes you as it helps you learn new skills
Grass Valley, CA (Vocus) June 23, 2009
The Children of the Earth Foundation has opened a new branch in California to bring its unique approach to connecting children and nature to the western United States. The Children of the Earth Foundation, a non-profit organization founded by author and outdoorsman, Tom Brown Jr., has been providing courses in survival, tracking and nature awareness to youth, teens and families since 1999. Until now, operations have taken place from a New Jersey home base which allowed opportunities for area schools, scout troops, indigenous populations and other groups to have customized programs. Because of the cost of travel, programs offered in California and other western states were severely limited.
With the growth of interest in survival skills and finding ways to inspire youth and teens to reconnect with nature, the need for an additional operation became apparent. This spring Director Rick Berry opened the new Children of the Earth Foundation office in Grass Valley, California. In addition to offering week-long courses for youth, teens and families in California and British Columbia, Children of the Earth Foundation is working with local schools and groups to create programs that meet the goals and interests of each organization. The response has been very positive as homeschool groups, area tribes, schools and scout troops have discovered The Children of the Earth Foundation's distinctive approach the outdoors.
In Children of the Earth programs, children and teens are introduced to traditional skills used by indigenous peoples from around the world. They learn survival skills like how to make shelters, make fire without matches using bow drill and hand drill methods, learn to find and purify water and find wild edibles. They also learn the ancient skills of making stone tools, tanning hides to make buckskin, making bows and arrows, baskets, pottery and so many other skills that have been lost from modern society. Woven within all these skills are lessons in respect for the Earth and understanding how the things of the Earth sustain our lives. The end result is youth who have confidence, a sense of responsibility and who have developed a meaningful relationship with the natural world.
In a time when young people are so inundated with electronics, non-stop communication and a real disconnect from the natural world, families and groups are looking for opportunities to show them an alternative. The Children of the Earth Foundation provides this opportunity through half day to week-long programs that truly impact young lives. As one teen participant shared; "This experience is amazing. It brings you out of the new and into the old. Nature's beauty consumes you as it helps you learn new skills".
Children of the Earth Foundation, west
PO Box 1348
Cedar Ridge, CA 95924
(609) 489-5900
http://cotef.org
Contact:
Debbie Tremel, Executive Director
(609) 971-1799
Debbie(at)cotef.org
###