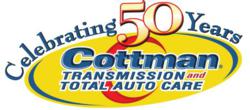 "To stay in business, grow like we have and remain successful for this long is a major accomplishment with so much change." -- Randy Wright, President
Horsham, PA (PRWEB) January 23, 2012
A lot has changed since the first Cottman Transmission Center opened in 1962 in Philadelphia … 10 presidents have led the country through four recessions, computers and telephones are now one in the same, and "everyday driver" cars have evolved from simple machines into modern marvels. That revolution alone led Cottman to mature from a humble drive-line repair shop into the country's finest total auto care brand, said its president, Randy Wright.
"To stay in business, grow like we have and remain successful for this long is a major accomplishment with so much change," said Wright, an auto service industry veteran who came to Cottman Transmission and Total Auto Care in 2011. "The country has been through major economic and technological upheavals, changes that have made our business substantially more complex than it was 50 years ago. Despite that, we've continued to evolve and broaden our services to achieve our status as the industry leader."
With more Americans keeping their cars longer, Cottman recognized the need six years ago to expand its business beyond drive-line service and repair and to become a one-stop auto care solution. When Cottman was founded a half century ago, drivers commonly serviced and sometimes repaired their own cars. But, advances in automotive technology now require most cars be serviced by trained technicians rather than shade tree mechanics.
"Fixing transmissions is often just a once- or twice-in-a-lifetime situation," Wright said. "So to grow our businesses, we needed to become a place where customers could return regularly to address almost all their automotive needs. That change even has removed customer aggravation of having to take their car to multiple specialists."
Celebrating Change
To celebrate its 50th anniversary, each Cottman service center will sponsor giveaways during January, February, and March for a chance to win free oil changes for a year. By visiting Cottman's Facebook page, customers can not only sign up for the giveaway, but engage with the brand through social media—something new for the mature firm.
"We have to engage our customers where they are in order to serve them better," said Wright, adding that younger customers expect such electronic interactions. "Knowing our customers are using this technology to learn about our brand, we've improved our corporate website and added local franchisee websites as well."
Each franchisee website, he said, bears local rather than national information designed to help area customers find stores easier. Websites feature street-level maps to each center, descriptions of services performed, the company's Code of Ethics, information on local specials and videos of Cottman's entertaining commercials.
"The fewer click-throughs they have to perform, the faster they can find us," Wright said. Each site gives customers a glimpse into the company's history and values allowing them to understand why they should bring their cars to us rather than the guy down the street. For our company to continue growing as we have experienced, we constantly need to be updating our brand and adapting our business. That strategy has worked well for 50 years now."
ABOUT COTTMAN:
The first Cottman Transmission Center was established in 1962 on Cottman Avenue in Philadelphia. With locations across the US, Cottman Transmission and Total Auto Care is an auto repair and transmission company, specializing in transmission repair for most any make or model vehicle, foreign or domestic. Cottman Transmission and Total Auto Care continues to take claim of the growing $200 billion aftermarket auto industry and specializes in complete transmission service, brakes, suspension, air conditioning service and much more. The Cottman Corporate Headquarters is based in Horsham, Penn. For more information, please visit http://www.cottman.com
###