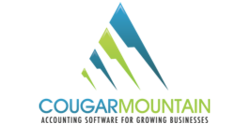 We created these packages by listening to the needs of our customers. They want bundled packages that contain the modules they want and will use, not features and functions that do not fit their business
Boise, ID (PRWEB) March 29, 2013
Cougar Mountain Software announced today the availability of three new business accounting software packages based on their comprehensive Denali product. The three packages: Basecamp, Ascent, and Summit, match the need for accounting elegance and simplicity with businesses at different stages of their path to success. Prior to the release of these packages, customers had a wide range of modules and optional add-ons, which at times complicated the decision-making process. In creating these packages, the company hopes to help customers make the best accounting system choice for their business.
"We created these packages by listening to the needs of our customers. They want bundled packages that contain the modules they want and will use, not features and functions that do not fit their business," states David Haworth, Chief Sales Officer. "We have looked at what our customers have bought and what they have asked for in order to create the Denali Packages." Cougar Mountain Software will continue to provide customers the ability to create packages by selecting the Denali modules they want or modifying a chosen package by adding specific modules.
The smallest package, Denali Basecamp supports new businesses or existing businesses that have outgrown the capabilities of Excel spreadsheets and QuickBooks. Denali Basecamp is the right accounting package to help start or continue business growth.
The Denali Ascent package supplies a more extensive collection of tools than Denali Basecamp. This package provides businesses with the capabilities to successfully manage inventory, manage cash flow more effectively, and begin to make better business decisions using customizable reports.
The top-of-the-line package is Denali Summit. This package helps businesses manage inventory across multiple locations, which cuts time and effort, reduces inventory cost, and increases confidence in inventory reporting. In addition, the Denali Summit package includes enhanced vendor and purchase order capabilities.
The Denali Ascent and Summit packages also come with training, support, and Software Assurance. All packages can be installed on-premise or deployed in the cloud. Cougar Mountain Software has flexible cloud deployment options to provide the right balance of customers' needs, cost, and control.
Cougar Mountain Software will release packages for the Denali Fund non-profit solution and Point of Sale in the near future.
About Cougar Mountain
Cougar Mountain Software has provided business accounting, nonprofit accounting, and point of sale software solutions to thousands of retail, wholesale, nonprofit, and service-based businesses around the world. Our 30 years of success comes from two key practices: employing in-house accounting and business professionals for our sales, support, training, and development teams, and listening to our clients. Our team of business and accounting experts provides our customers the personalized service they need to make the right decisions about their accounting solution.