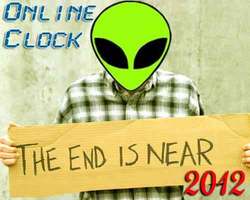 Online Clock does not endorse the Doomsday theory. We simply wanted a fun countdown clock.
San Francisco, CA (PRWEB) January 15, 2011
Online Clock has released a new Doomsday Countdown Clock. Taking the idea of a regular countdown timer and adding an exciting twist, the idea for the clock was designed by the website's creator, Thomas Churm. Doomsday is commonly known as the date of December 21, 2012. On this date, many people believe that the world will come to an end. There has been much controversy and tension related to the issue. Predictions of this date holding a mysterious catastrophe or the end of the world have become so popular that books and movies have referenced it and even featured it as the main idea.
Mr. Churm made it very clear that Online Clock plans to continue ticking on December 22, 2012 and well beyond. When asked if he or his website support the Doomsday idea, he smiled and replied, "No, I don't; and Online Clock does not endorse the Doomsday theory. We simply wanted a fun countdown clock to give people something interesting and entertaining to do." His intention is to have a clock where people can simply look at the timer and know exactly how many days, hours, minutes and seconds remain until December 21, 2012.
In hopes to dispel any fears of Doomsday catastrophes, Mr. Churm even posted a blog post on the subject of the 2012 "doomsday". In the text, he notes that the Mayan Long Count Calendar, which was the source of the Doomsday idea, does not even specifically say the world will end on that day - only that time will reset. He also points out that even if the Mayans had somehow meant this date was the ominous "Doomsday," they weren't consistently accurate overall with their predictions - and they missed some very important things. After all, as he noted, they were not able to predict the fall of their own society to the Spanish.
In the past, many "Doomsday" dates have held a catastrophic or apocalyptic connotation, but the world persisted on. When asked why he thinks the idea of the 2012 disaster is so popular, he replied with a light-hearted chuckle, "The world loves excitement. Who doesn't?" He also said in a sincere tone, "Online Clock wants to provide people with the excitement they crave, but without the stress and worry." This is why Mr. Churm is dedicated to continue producing new and unique clocks, timers, alarms and games online, all free of charge to use.
Mr. Churm has always held the philosophy that his many online time-telling creations should be easy enough for everyone to use. The Doomsday Countdown is no exception; it is fun for people of all ages, from those still in diapers to people who are nearing an age with three digits. Simply view the clock's large red digits to know how much time is left until Doomsday. The timer can be shared on all the popular social networking sites, email or blogs with the click of a button. In further hopes to dispel the fears and worries of Doomsday, Mr. Churm also created a link to his research blog on the subject, located just below the timer. As with all of his signature online clocks and timers, Mr. Churm makes the Doomsday Clock available in sizes of small, medium, large and extra large. For those who think the default black background too ominous, he also made this clock available in his regular signature color backgrounds, including blue, silver, green and orange.
In all of his creations, Mr. Churm enjoys and welcomes feedback from people who enjoy making games using his website's clocks; he encourages people to continue this with the Doomsday Clock. Guessing games, bets on the amount of time left or any other ideas always interest him. When asked what gave him the idea to create the Doomsday Clock, Mr. Churm replied, "It just came to mind. I enjoy giving my fans and readers something new and intriguing to see when they come to my site. As long as they're happy, I'm happy."
About OnlineClock
Online since March 24th, 2006, Online Clock, the Online Alarm Clock was the world's first online alarm clock website. Online Clock strives to be the number one network for the simplest, most useful and best Online Clocks, Timers and Time Tools. For more information on the various online alarm clocks offered for free by OnlineClock, please visit http://onlineclock.net/about/.
# # #