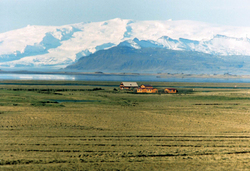 the best stop of our 15 nights in Iceland. Congratulation to the cook! A very lovely place .....
(PRWEB) August 2, 2007
Country Hotel Arnanes, a cozy retreat near Europe's largest glacier in South-East Iceland, is making some marketing moves in the internet. A new website offers a lot more extensive information about the area, featured in several international blockbuster movies, and of the comfortable hotel with top notch cooking and home baked bread awaiting the guests.
"Our aim is to position South-East Iceland as a hot spot for adventure seekers looking for out-of-this-world experience but still want to enjoy comfort and security on their travel. We are confident that the area still has great untapped potential," says Asmundur Gislason, co-owner of Arnanes Country Hotel which stands on a ness before the sea, and just a short stretch from Höfn, South-East Iceland's main town and the mountain, with the icy giant Vatnajökull glacier, Europe's biggest, nearby.
The Country Hotel has opened a new website with a bundle of new features, with the aid of an internet marketing consulting company, which Mr. Gislason says will strengthen their presence on the internet, and enable a more effective marketing in the international tourist market. The website, viewable at http://www.arnanes.is, includes elements like online booking, extensive information about the facilities, its environmental policy and the owner's pride, comments from guests. "There are information about the whole area and recreation possibilities, as well as the hotel. By that we ease access to information about the nearby locations which have, without exception, taken our guests breath away."
The other half of Arnanes management team adds that, "We want to emphasize further those two stark opposites, the ice cold of the glacier and ruggedness of the mountains, unique enough to find its way into several international blockbuster movies, and the warmth of our facilities with the gourmet kitchen, and even fresh home baked bread."
These words are spoken by Helga Erlendsdottir. She is the other co-owner and Mr. Gislason's wife, who held her father's name at marriage in the old Viking tradition still strong in Iceland. She is also the artist responsible for the production of fine art that takes over during the winter months. "When the season kicks in, there are always new works that I add to the gallery once in a while, and then some are sold to our guests who want to bring home more than just the memories of our hotel," Ms. Erlendsdottir adds with a smile.
A cozy retreat under a frozen wilderness
Glaciers are mysterious spaces of vast, white ice. They were seen as a place of desolate and freezing death in past centuries, but today a serene vastness for spiritual uplifting, of testing your abilities as well as a venue for exciting snow scooting and fun-making. Among the greatest of those is the huge Vatnajokull glacier in South-East Iceland, that is about to be made into Europe's largest national park along with surrounding areas. South of the glacier, near the town of Höfn in Hornafjordur, flanked by jagged mountainsides, rolling grassy hills and long, black beaches, home only to seals and seagulls, is an inviting hotel that offers relaxation after a day of activities and a good night's sleep. Guests have also described it as "home of the best,, 6-star-cook" of Iceland," and that "in the end we would like to buy out all the home made bread, now we are going with it as a gift!"
Not a dead moment
The area around Arnanes surely motivates for a visit. Trips up on the Vatnajökull glacier are much sought after, with the possibility of both snowmobile transport and snow scooter fun. You can explore the seaside by boat or four-wheelers, with rich birdlife and ruins from World War II. For those with a penchant for hiking, the surrounding area has many marked trails. Further to the east lies the spectacular Lonsöraefi mountain range, with rhyolite and minerals in an array of colors giving a great contrast to the modest vegetation. Reindeer can be spotted at many times.
At an hour's drive to the west one of the greatest wonders of nature in Iceland comes into sight, the Jökulsarlon glacier lagoon, where sculptural icebergs float serenely on the lagoon, and the Breidamerkurjökull icefall and mountain peaks creating the scenic backdrop. Behind is the large Vatnajökull glacier. The lagoon has been the setting for countless photographs and filming, and is seen among other in the films Beowulf and Grendel, Batman Begins and Tomb Raider, and last but not least where the one famously in Her Majesty's service, James Bond, tested his skills against the bad guys in the movies Die Another Day and A View to a Kill. So killing some time at the lagoon is more than worthwhile. Boat tours on the lagoon itself among the icebergs are available and much recommended. The buses going from Höfn to the lagoon stop by at Arnanes.
There are many possibilities for hunting and fishing around Arnanes, although some of them require a permit. The staff will gladly answer any of your questions regarding this. And if you happen to be there between October and February, on a clear night the magical Northern Lights, sometimes in glistening hues of violet, white, green, yellow, blue and even red, will dance across the black sky among the stars, truly like a ballerina, and you will wish there will be 1001 nights available for you, just you.
A haven between the sea and the ice
Arnanes can accommodate 35 guests at the same time, in seven rooms with bathrooms, and nine comfortable rooms with shared facilities. All rooms have satellite TV and radio, blackout drapes and a writing desk in non-smoking rooms. Living rooms and sitting rooms are there also for guests to enjoy. The front desk is open 24 hours a day with English, German and Scandinavian speaking staff offering information and assistance in tour reservations. The lobby also has internet access, photocopying and faxing service.
Arnanes has also a fully licensed restaurant that seats 40 people, emphasizing seafood dishes and traditional Icelandic courses on the menu. It is open from May to October. The restaurant is more than most such facilities, for it also is an art gallery where the owner Helga Erlendsdottir, a trained artist, displays her oil and watercolor paintings.
About that bread
If your interest is awakened, don't hesitate to look further at the website http://www.arnanes.is.
In one of the many entries of the Arnanes guestbook, Helen & Mottlier from France say that Arnanes was "the best stop of our 15 nights in Iceland. Congratulation to the cook! A very lovely place ....."
Helga and her husband, co-owner Asmundur Gislason, will be determined to give any guest the same hospitality, and home baked bread too. Being under the frosty world of the greatest glacier in Europe, it is surely good to have one such place to come to. The only question that lingers unanswered is this: Did James Bond 007 pop by and ask for a loaf of that home made bread? By the way, the bar also has good cocktails. "Shaken, not stirred."
###