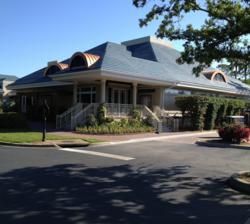 Grey Oaks Country Club is unique in that its facilities are designed in a campus-like fashion.
Naples, FL (PRWEB) March 12, 2013
Grey Oaks Country Club announced it has completed a major renovation of its golf Pro Shop, men's and women's locker facilities, and the Club's Grille Room. The renovation was designed to meet the needs of the Club's membership by redirecting movement patterns beginning at the arrival and bag drop area and extending through the Pro Shop and into the men's and women's locker facilities. The locker facilities were re-designed to better reflect the current and future space and amenity requirements of the members. Retail merchandise space in the Pro Shop was expanded to provide a greater diversity of golf equipment, apparel and accessory selections. The Grille Room and bar area was renovated with a new open look at the bar, a redesigned cocktail area to host pre-dinner parties, and a new design in the Grille Room. Designed by Peacock and Lewis, a Palm Beach architectural firm that specializes in clubhouse and golf facility designs, the renovation also included an expansion of the Pro Shop's meeting facilities.
"Grey Oaks Country Club is unique in that its facilities are designed in a campus-like fashion," said General Manager Jim Butler. "A series of interconnected wings meet the different needs of our members, whether it be dining, our golf operation or our tennis and fitness facilities. This is a different approach from that found at most clubs where all of the facilities are combined in one large vertical structure. Our design approach continues to serve our members well as our member satisfaction on these projects has been overwhelmingly positive. It also provides us the flexibility to renovate our facilities as the needs of the Club and our membership shift. We saw an opportunity to enhance the services and merchandise availability provided by our Golf Pro Shop, to make the arrival and bag-drop area more user-friendly and to update the men's and women's locker rooms in a way that makes them even more comfortable and visually appealing. The just completed renovation project has accomplished that while also enhancing the availability of multi-purpose spaces suited to meetings and private gatherings."
The renovation project included completely re-doing the interior of the golf operations wing. Additional office, merchandising and inventory space were included in the new Golf Pro Shop design. A large service bar, expanded card room space and soft seating areas are featured in the new men's locker room. The new locker room facilities include approximately 300 men's lockers and over 250 women's lockers. The hallways of the building were re-designed to include new carpeting and wall coverings, as well as natural finishes and ceiling details that call to mind Grey Oaks' rich heritage. Three new multi-purpose rooms are designed to accommodate board meetings and other Club business related functions, men's or women's group events and private family gatherings.
Grey Oaks Country Club's amenities are completed, member-owned and debt free. An innovative transition plan was implemented to ensure a seamless transfer of ownership from the developer to the Club members. Resident and non-resident memberships are available at Grey Oaks. Along with its well established non-resident equity membership offering, Grey Oaks is now making non-refundable, full golf memberships available to non-residents for $95,000.
Grey Oaks is located off Airport-Pulling Road just north of Golden Gate Parkway in Naples. Grey Oaks Realty is the exclusive sales and marketing representative of Grey Oaks Country Club. For residential opportunity information, call 239-262-5557 or visit the Grey Oaks Sales Center Monday through Saturday, 9:00 a.m-5:00 p.m. or Sundays, Noon-5:00 p.m. For resident and non-resident membership information, call 239-262-5550.