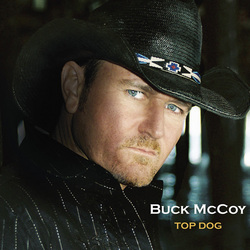 (PRWEB) September 18, 2007
Country recording artist Buck McCoy is getting set to tour in support of "Top Dog," his debut album on the newly formed Caption Records label. His first scheduled appearance will be on September 22nd (Saturday evening) at the Roxy Theatre in Los Angeles.
Buck recently made the semi-finals on the "Next Best Thing" (ABC TV)and his first single, "A Few Steps Away," hit #1* on both the NMW and IMN independent Country music charts. The single also broke the Top 10 on New Music Weekly's Country Top 50 and scored high on Nashville's Music Row. The second single, "Got It All With You," has just been shipped to both Country and mainstream radio.
"Music programmers are already predicting high chart success for Buck's new single", notes Lynda Roberts who heads up Caption's country promotion division. The tour will also take Buck to Salt Lake City, Utah, on October 18th for the world premier of "Moondance Alexander" starring Kay Panabaker, Lori Laughlin and Don Johnson, directed by Michael Damian. The song "What Might Have Been" is featured on both the soundtrack and in the feature film set for release through 20th Century Fox Faith. Other stops on the tour will include dates in Southern and Northern California, Oregon, Washington, Wyoming, Colorado, and Arizona.
The "Top Dog" album, recorded and produced by music veterans Larry Weir and Tom Weir, is now available on I-Tunes, Rhapsody and at Amazon.com. Physical distribution for Caption is handled through Burnside Distribution with digital by InGrooves. For a further schedule of tour dates on Buck McCoy, please contact the Artists Management Firm/Heartland Entertainment Group at 323-658-7449. You may also visit http://www.myspace.com/buckmccoy , http://www.buckmccoy.com and http://www.captionrecords.com.
Tom Weir
818-505-9368
http://www.myspace.com/buckmccoy
###