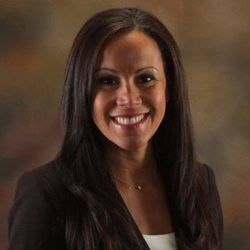 "We are excited to have Amy as part of our team and feel she will be an asset to support our business partners," said Matt Croak, president of Wise F&I
St. Louis, MO (PRWEB) January 06, 2016
Wise F&I is pleased to announce the hiring of Amy Counts as an account executive. Counts is responsible for business and relationship development with independent Agents by growing Wise F&I product penetration.
Counts has over 18 years' experience in the automotive industry working for The Reynolds and Reynolds Company and RouteOne in roles expanding from: marketing, management, software training, technology implementations and B2B sales. She received several honors during that time including: Core Value Award, National Association of Minority Automobile Dealers Association Appreciation Award, 300 Sales Club and Variable Operation Specialist of the Year.
Counts helps to round out the Wise F&I sales team and is part of their continued growth. Over the past five years, Wise F&I has tripled in employee size. Wise F&I has expanded their product offerings and technology capabilities, including eContrating, eRemitting and menu system integration. "We are excited to have Amy as part of our team and feel she will be an asset to support our business partners," said Matt Croak, president of Wise F&I.
About Wise F&I
Wise F&I has a long history of success in the automotive finance and insurance space, initially specializing in Guaranteed Asset Protection (GAP) then expanding over the years to now include a full array of F&I products including: Appearance Care Service Contracts, Theft Deterrent Systems, Vehicle Service Contracts, Key Replacement and other ancillary products. Wise F&I branded products are marketed through independent agents to automotive dealers. Additionally, Wise F&I supports private label programs and strategic partnerships with automotive lenders and finance companies on both a national and regional basis. All products are fully compliant and underwritten by an A- rated (or better) insurance carrier.
With 25 years in the industry, Wise F&I's experience allows the delivery of complete contract origination solutions supported by efficient and accurate claims and cancellation processing. With a focus on building partnerships, and a priority on customer service, Wise F&I is the F&I provider of choice.