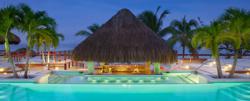 What a wonderful opportunity for a Couple on a budget to go for free to Couples or a group of friends to get together and share the savings.
Palm Harbor, FL (PRWEB) April 07, 2012
Go Classy Tours is sponsoring free personalized conference calls for Caribbean lovers who would like to learn how to organize a small group of their friends for an all-inclusive spectacular and romantic vacation at one of the four award-winning Couples Resorts in Jamaica. Successful group leaders and their spouses receive the same vacation stay as their group members for free.
Elegant and romantic, Couples Resorts offer the best all-inclusive value for couples on either a honey-escape – any excuse for time alone with your lover, or on a honeymoon – whether it's your first one or your fiftieth. Romance in the sun and surf followed by moonlight kisses after a fine gourmet dinner and a nightcap in the piano bar, it's all included in your vacation package.
Couples Resorts offer four spectacular all-inclusive vacation locations in Jamaica. Couples Tower Isle and Couples Sans Souci are located in Ocho Rios, Jamaica where the mountain comes down to meet the sea; and Couples Negril and Couples Swept Away are beautiful beach resorts in Negril, Jamaica.
Interested industrious beach lovers can register for one of the free informational conferences by simply sending an email to goclassy(at)goclassy(dot)com. Please, include the words "Couples Group Leader" in the subject line. A response will be returned with details and a selection of conference times. There is no cost or obligation to participate in the educational conference by telephone. Call times are available Monday - Friday, 9 A.M. - 8 P.M. Eastern Time by appointment.
If you are an individual who believes you have the ability to organize a minimum of five other couples to travel with you to the Caribbean, Go Classy Tours will teach you how to be an effective group leader and arrange for you to stay free at the resort with your group. Free travel is fun!
It all begins with your Go Classy Tours' free personalized conference call. Go Classy Tours will provide you with all the information and tools you will need to make a spectacular romantic vacation in the Caribbean total irresistible for your friends and acquaintances. Write for your conference call time by sending an email today to goclassy@goclassy.com. Please, include the words "Couples Group Leader" in the subject line.
For over twenty-five years Go Classy Tours, Inc. has been arranging travel for tens of thousands travelers from all over the world. Specializing in Caribbean all-inclusive resorts, Go Classy Tours offers vacations for up-scale family resorts, romantic couples-only resorts, and resorts with naturist facilities. Located in Palm Harbor, Florida, Go Classy Tours is registered as a travel provider in both Florida, registration #10015, and California, registration #1015540-40
For more information, contact Lance Hutchinson at Go Classy Tours, 2676 West Lake Road, Palm Harbor, Florida 34683 or call toll free 888-825-2779. Web information is available at http://www.goclassy.com. Email us at goclassy(at)goclassy(dot)com.