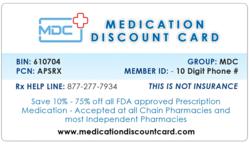 Margate City, NJ (PRWEB) May 22, 2013
The health care crisis in the United States is far from solved. In some states, up to twenty-seven percent of all adults are without health insurance. Further, roughly half of all bankruptcies of private citizens in the U.S. are related to medical bills. The high price of medical care also affects prescription drugs, meaning that many patients cannot afford to take their prescriptions as directed by their doctor, or even get them filled at all. That's why MedicationDiscountCard.com is offering savings of up to seventy-five percent on prescribed drugs for pain management and for physical, mental, and emotional issues. A Lyrica coupon can help you save on your next prescription. Additional medication discount cards provide savings on many other prescription drugs for the uninsured, or drugs that are not covered on existing insurance plans.
Jeremy Duboys, President of MedicationDiscountCard.com, explains his mission, "We are aware that millions of Americans are losing out on healthcare because prescription prices are too high. That's why our card offers you a discount of up to 75% on thousands of prescription drugs." Duboys believes that everyone deserves to be able to refill their prescriptions so they can be taken regularly. MedicationDiscountCard.com is pleased to offer a Lyrica coupon and other medication discount cards for those managing chronic or recurring pain. Untreated ongoing pain has a profound effect on quality of life for sufferers, as well as leads to unexpected costs from lost work days and reduced productivity.
Medication discount cards and Lyrica coupons are convenient to get and easy to use. Simply fill out the application at MedicationDiscountCard.com. Acceptance takes only a few seconds. The card may be printed on a home printer for immediate use, or patients may request that the card be sent via postal mail. Once the medication discount card is in hand, it may be used at nearly sixty-thousand pharmacies in the United States including many major pharmacy chains and thousands of independent stores. MedicationDiscountCard.com believes everyone deserves to be able to take their medication according to doctor's orders.