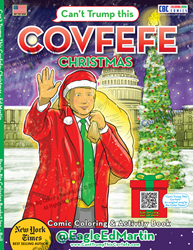 "The tweets of Donald Trump will go down as the most important Presidential Communications since the Gettysburg Address," Ed Martin
ST. LOUIS (PRWEB) December 06, 2018
Covfefe Christmas Coloring Book Comic with song has been released by Really Big Coloring Books®, Inc. in association with Ed Martin and the Phyllis Schlafly Eagles. The 24 page adult comic coloring book, available for $9.97, features illustrated reenactments of top Christmas related tweets from the @realDonaldTrump Twitter handle including a scan-able QR code to listen to the official Covfefe song performed by St. Louis based band The Color Tones®.
Designed to be lighthearted for youth and adult in celebration of the Christmas season. Enjoy the fun games and activities while coloring in the beautiful artwork that sets politics aside in order to put the spotlight on Christmas. The book includes a cut out commemorative holiday ornament which features 45th President Donald Trump and each book can be used as an educational tool in which to inform about President Trump and the White House daily activities.
Covfefe Christmas completes the 2018 three volume set of adult comic coloring books noting the history making Tweets of President Trump. On May 31, 2018, one year following President Trumps infamous Tweet "Covfefe", marked the release of Ed Martin's first adult comic coloring book "Covfefe Can't Trump This". The first volume takes the reader on a journey through the most famous and most controversial tweets from the president. Scan the QR codes directly from the book and hear Martin explain the tweet, the meaning and the impact or listen to the official Covfefe song performed The Color Tones®.
September, 2018 Volume II (2) Covfefe Patriot or Traitor continues with more Tweets regarding some of the most famous personalities allowing the reader to designate the individuals as a patriot or a traitor. All three volumes are available for immediate shipping and can be purchased individually or are available at a special price as a holiday gift set.
"The tweets of Donald Trump will go down as the most important presidential Communications since the Gettysburg Address. With these three books you can read those tweets and see the importance and joy of them", stated Ed Martin. You can gift the books individually for $9.97 each or send the set for only $19.95.
Really Big Coloring Books®, Inc., headquartered in St. Louis, MO, is a multi-national company providing quality adult and children's teaching and learning tools, coloring book products for nearly three decades and publishes music. Known for their market leading positions the RBCB family of products are classic, colorful, unique and musical. The company owns more than 1500 coloring book and music related domain names in several countries. A trend-setting leader in children's publishing and the coloring book industry. The company holds membership in numerous professional and trade organizations including The Missouri Press Association, System for Award Management for the U.S. Govt. (SAM), SAGE, ASI, and PPAI, The International Book Publishers Assoc. (IBPA) and other industry leading groups. Member of the Library of Congress Copyright Office in book and music publishing.