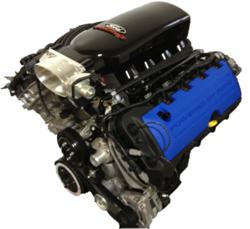 Livonia, Michigan (PRWEB) May 08, 2013
Ford Racing visited Performance Assembly Solutions (PAS) to produce a video of the assembly process of the Coyote Aluminator Engine. In the video, Ford Racing's Mike Delahanty, Crate Engine Product Manager interviews the engineering manager at PAS who explains the entire assembly process, step-by-step while pointing out the care taken by PAS to ensure the highest levels of quality and performance. See the build process for the Aluminator Engine.
About Performance Assembly Solutions
Performance Assembly Solutions (PAS), registered to ISO/TS 16949:2009, ISO 9001:2008, and ISO 14001:2004, is based in Livonia, Michigan. PAS specializes in the assembly of complex powertrain modules such as piston and jet turbine engines, superchargers, and other related engine subassemblies including cylinder heads, intake manifolds, and oil filter adaptor assemblies. Established in 1999, PAS has fueled their growth by coupling their complex integrated assembly expertise with their manufacturing resource relationships. Whether the needs are niche, specialty, or high volume, PAS offers a single point of contact for bringing a project from concept to delivery. Entrusted by clients such as Ford Powertrain, Ford Racing, General Motors Performance Parts, General Engine Products, JetHeat, and Roush Performance Products, PAS is supercharged to exceed your expectations. Our word is our commitment and our philosophies are born from our automotive heritage.
For more information about Performance Assembly Solutions call: 734-775-1768 or visit: http://www.performanceas.com.