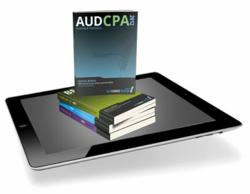 ...the redesign of our CPA pages has made it easier for visitors to our website to digest the content
Orlando, FL (PRWEB) March 03, 2013
The CPA exam is a notoriously difficult test to pass. Statistics have shown that accounting students who use Fast Forward Academy's study guides and CPA exam prep products have a greater chance of passing. But it's not only the CPA exam that's difficult to get through. There's an overwhelming amount of information to sift through when it comes to choosing which CPA exam prep material to choose. Fast Forward Academy is constantly making strides to make the decision making process easier.
A leading provider of quality CPA exam review materials, Fast Forward Academy has recently launched some newly designed pages on its website to help make the process of choosing CPA exam review products a bit easier for accounting students.
President of Fast Forward Academy, Matt McBride, says, "Along with being easier to register for CPA exam prep courses and the ability to sample the free tools Fast Forward Academy has to offer, the redesign of our CPA pages has made it easier for visitors to our website to digest the content." He adds, "We've used popups to present screen shots from our CPA courses and we've made the content much more interactive, allowing website visitors to view sample questions, study plans and books, giving a clear picture of what our CPA exam review products actually look like."
Fast Forward Academy offers products related to: Auditing and Attestation (AUD), Business Environment and Concepts (BEC), Financial Account and Reporting (FAR) and Regulation (REG). These accounting courses can be purchased separately or in a comprehensive bundle.
Anyone preparing for the tough CPA exam improves their chance of passing after taking advantage of the interactive tools, built-in community features, developed study bank (with 500 questions per individual course, or 2,000 questions in the comprehensive package) and CPA practice exams offered by Fast Forward Academy.
Click here to sample a variety of CPA exam preparation tools.
About Fast Forward Academy
Fast Forward Academy, LLC provides companies and individuals around the world with the tools to help them efficiently manage their professional education needs. The name Fast Forward Academy reflects the scope of our mission—helping students and professionals accomplish more in less time. To realize this goal, we make every effort to provide the most useful and efficient exam prep material in the market place, all designed to help our students Learn Fast and Pass. Our principal focus is to supply rapid training and streamlined continuing education to professionals in the fields of taxation, securities and insurance.