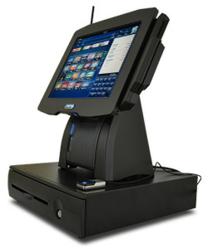 This is a complete system that will meet the need of almost any merchant
Carrollton, Texas (PRWEB) September 10, 2012
Certified Payment Processing (CPP) recently announced that the company is now offering a point of sale (POS) system that is easy to set up and use, provides features typically reserved for more complex systems and is low cost.
The new POS comes with an easy-to-read, adjustable 15" touch screen, as well as a customer facing display. The "Installation Wizard" provides a guided journey through the complete setup process and allows the system to be fully operational in less than 30 minutes.
"This is a complete system that will meet the needs of almost any merchant," says Mike Hutchison, Senior Vice President of Sales for CPP. "And because it is so simple to set up and easy to learn, there's little to no down time for the merchant."
The system is suited for a variety of businesses, from retail to hospitality to the service industry. It has many pre-loaded business templates already built in, including image galleries for each businesses' most common products. So, for businesses such as bakeries, liquor stores, beauty salons, barbers, groceries, restaurants, mall kiosks, gift shops, clothing boutiques and bars, the POS is truly ready to go right out of the box.
The unit is small and compact, taking up little counter space. It has an aluminum housing and a fan-less cooling system. It's also water and dust resistance.
Built-in capabilities allow a business to not only process credit card and debit card transactions, it can handle gift card and EBT purchases. Other useful features include:

Multiple user access management
Add tips and taxes; simple process to split a sale
Stock and inventory control
Powerful analytics to manage finances with multiple reporting functions such as number of sales, average amounts, comparisons, hourly sales, as well as week, month, year and more
Entire database can be backed up to a USB flash drive
Time clock to track employee work hours
Built-in thermal receipt printer with auto cutter
"We've wanted to offer a POS for a while," says Hutchison. "But it had to be easy to implement, have a robust set of features and have a price point that makes sense for our target market of small to medium-sized business. With this system, we really hit all of those marks and we are proud to add it to our product line and offer it our merchant clients."
CPP is a direct provider of credit card processing services and also leases point-of-sale terminals that quickly process all forms of payments: debit and credit card transactions, gift cards and checks. The products and services are designed to help businesses increase revenue, control costs, improve efficiency, enhance data security and provide their customers with the most popular payment methods. CPP is the only processor in the country currently selling this technology.
For more information on this new POS system, please visit the POS product page on the CPP website or contact our Product Services department at 866-460-5482.
# # #
About Certified Payment Processing
Certified Payment Processing (CPP) is a full-service provider of electronic payment equipment for processing purchases made by debit and credit cards, as well as checks and online purchases, in addition to a range of other specialized merchant services. For nearly 20 years, CPP has helped small and medium-sized businesses increase revenue, control costs, improve efficiency, enhance processing security, and provide their customers with the most popular payment methods. With two sales entities -- TransTech Merchant Group and Summit Merchant Solutions -- CPP has more than 40,000 active merchants and transactions in excess of $3 billion. CPP has a support staff of 330 people to provide assistance to hundreds of field sales representatives across the country, and is headquartered just outside of Dallas, Texas. Those interested in learning more about career opportunities at CPP are encouraged to visit the career site.