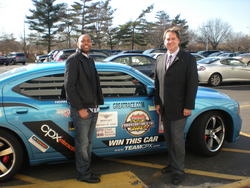 After participating in Fireball Run with the CPX Interactive team, I knew that I wanted to donate our car to a good cause. I'd seen the great work done by Child Rescue Network throughout the race, and I decided to support them further by donating the car for them to raffle
Westbury, NY (Vocus) March 13, 2009
Carlton Hickman, CTO and Co-Founder of progressive online ad network , CPX Interactive, donated a limited edition Dodge Charger to the Child Rescue Network. The car was used in last year's Fireball Run, a cross country race to raise awareness for missing children. Hickman was a member of the CPX Fireball Run team , and had the 2008 Limited Edition Dodge Charger SRT-8 customized for the 3500 mile race. After working with the Child Rescue Network as part of Fireball Run, Hickman decided to continue to support their efforts.
"After participating in Fireball Run with the CPX Interactive team, I knew that I wanted to donate our car to a good cause. I'd seen the great work done by Child Rescue Network throughout the race, and I decided to support them further by donating the car for them to raffle," Hickman said.
Child Rescue Network will be offering raffle tickets for a chance to win the vehicle.
CPX Interactive is committed to helping worthy causes through its philanthropic division, CPXample TM. Hickman and Co-Founder and CEO, Mike Seiman, believe that "with power comes responsibility," and they have used the power of the Internet to give back. Through CPXample™, CPX Interactive has donated tens of millions of impressions to sites that include Save Darfur, Live Earth, and the American Diabetes Association.
About CPX Interactive:
As a progressive online ad network and global marketing company, CPX Interactive is redefining the online advertising landscape. By layering the development and execution of cutting edge online strategies on top of its own global distribution model, CPX ensures advertisers success on any metric while efficiently monetizing 100% of its publishers' inventory…from premium to remnant. Advertiser and Publisher offerings include Reach, Content and Premium Networks.
CPX Interactive delivers more than 30 billion impressions to more than 200 million unique users in more than 60 countries every month and has recently been named #71 on Inc. Magazine's list of the 5,000 fastest growing private companies in America.
Contact Information:
CPX Interactive
Samantha Karol, Marketing Assistant
516-693-0758
# # #