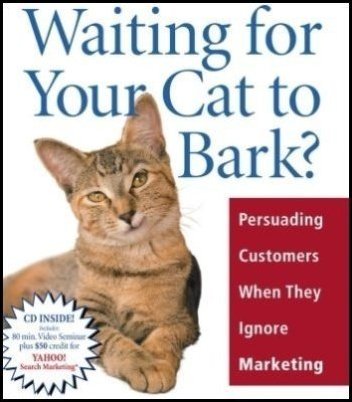 Waiting for Your Cat to Bark?: Persuading Customers When They Ignore Marketing
New York (PRWEB) August 7, 2006 –
What do online advertisers and crack users have in common? According to Bryan and Jeffrey Eisenberg, both are locked in a disastrous end game, a downward spiral leading to certain doom. Read about and comment on this provocative idea at Future Now's blog. A Day in the Life of a Persuasion Architect (http://persuasion.typepad.com/architect/2006/07/crackvertising_.html). They hope to intervene and save some crackvertisers before the annual Search Engine Strategies conference August 7 in San Jose.
The Eisenbergs wrote "Waiting for Your Cat to Bark?: Persuading Customers When They Ignore Marketing," a #1 Wall Street Journal, USA Today, #1 Amazon, Business Week and New York Times best seller. The brothers are also the masterminds behind Persuasion Architecture™, a marketing methodology designed to reach post-marketing consumers.
Crackvertiser's start innocently enough, harnessing free search result referrals as a moneymaking tool. Why start with free traffic? As any skilled dealer will say, "The first bag is always free." In both cases, a free first taste leads to exhilaration, and then a desire for more. The story for crack addicts is sad, straightforward and severe. Search marketers find referrals to be merely a gateway and rapidly move on to impressions, paying search engines to deliver their ad to web surfers. Soon they seek improved quality of traffic by entering bidding wars for favored position.
It's all about traffic. The crackvertiser needs progressively higher traffic volumes to sustain the sales levels. If that traffic level drops, or if conversion rates fluctuate or fall, crackvertisers work themselves into a panic trying to devise ways to bring traffic levels back up; always focused on this misleading "numbers" game. At the same time, search engines develop more and more techniques designed to keep search marketers tied to them and focused on raising traffic levels. And although unsure about whether they really like their search engine partners, by now the crackvertiser is too scared and too focused on a single goal to think about anything else.
Bryan and Jeffrey Eisenberg urge all crackvertisers to come to a moment of clarity, especially before SES in San Jose on August 7. It's not about ever increasing traffic numbers -- it's about making sure that existing traffic is pleased with the results of their visits. Who cares if more and more people come to a web site? Compare escalating traffic costs to Shop.org's alarming reports that online retailers are consistently converting less of their traffic to sales every year since 2002.
The secret lies in Persuasion Architecture™, proven techniques for both acknowledging customers now have the upper hand and providing them with a delightful experience that encourages them to research, gain confidence, contact and/ or buy and then return.
If, after this moment of clarity, marketers are ready to find out more about a better way, there is a ready two step program to guide them. Attend the "Converting Visitors" Session where Bryan Eisenberg will speak at Search Engine Strategies and read "Waiting for Your Cat to Bark?: Persuading Customers When They Ignore Marketing", available at Amazon.com (http://www.amazon.com/exec/obidos/ASIN/0785218971/httpwwwcallto-20/102-8341731-5842540), Barnes & Noble (http://www.bn.com/bark), Booksamillion (http://www.booksamillion.com/ncom/books?id=3478914631225&isbn=0785218971) and at better bookstores everywhere.
About Bryan and Jeffrey Eisenberg
Bryan and Jeffrey Eisenberg founded Future Now, Inc., a New York City based consulting firm focused on helping clients understand their visitors in order to convert website traffic into leads, customers and sales. Their team of experts in interactive media, human behavior, online strategy, business development, communications and technology have decades of combined experience. With their Persuasion Architecture™ methodology and proven conversion rate optimization services, they help their clients define and surpass their goals. The Eisenbergs' previous book, "Call to Action," an overview of the principles and tactics of conversion rate marketing, was also a New York Times, USA Today and Wall Street Journal bestseller.
###