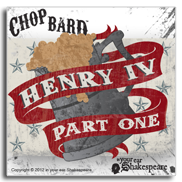 Once you trust a guide or teacher, then books that were previously out of reach are possible.
McLean, VA (PRWEB) March 25, 2013
As teachers feel Common Core State Standards bearing down on them they search for new ways to help students access material that may be above their independent reading level. Resources that can give teachers and students support with complex texts in an engaging format are hard to come by, but podcasters Heather Ordover and Ehren Ziegler have a solution—and it's free.
Ordover hosts the weekly podcasts CraftLit and Just-the-Books, which take on classics of British and American literature one chapter at a time. Ziegler is the host of the Chop Bard which focuses on deep but accessible analysis and exploration of the plays of William Shakespeare. Both shows provide listeners with historical context, textual analysis, lively discussion, and a true appreciation for what makes the "good stuff" in literature so enduring.
For seven years Heather Ordover, a former English professor and Ehren Ziegler, a Shakespearean actor, have built libraries of audio that can now be downloaded to provide interested adults, teachers, parents, and students with a friendly, intimate, low-stress, and engaging podcasts that live outside of formal school environments. Ordover and Ziegler's audio files tap into real educational needs and guide their audiences through classic texts listeners say they never thought they'd engage with, let alone love.
"The classics are classic for a reason," Ordover said. "Most of the time the only thing getting in the way of modern readers is a few old words. Help with weird figurative language, or a piece of historical context can be filled in quickly, then you can get on with enjoying the story." Ziegler adds, "It's one of the reasons the podcast format works so well for us. We can communicate tone and intention and humor where more traditional written guides feel dry and distant." Listener Gabielle Hedlund agrees, "I think one of the reasons [CraftLit's] audio is appealing is because you don't talk down to your readers. You have a conversation—you tantalize, you give what's helpful to break down complicated sections, but you're not speaking from on high. I'd say it's because you were a teacher, but that's only part of it. Some teachers have it and some don't. You have it." Of ChopBard Hedlund says, "I also think this is ChopBard's appeal: an appealing and enthusiastic guide who doesn't talk down to his listeners."
Both podcasters have experienced growing numbers and solid reviews (CraftLit / ChopBard) over the years. "But," Ordover clarifies, "we are not 'audio Cliff's Notes,' we don't summarize or provide a 150 word analysis of a chapter. I think of what we do as 'audiobooks with benefits'." Ziegler is known for his extensive research into the history behind the plays as well as his ability to enlighten and entertain his audience with the archaic words Shakespeare uses. Ordover also works to help listeners overcome terminology differences between now and the times in which her classics were written, but she has had to go a step further with her books. "So much understanding can be communicated with the human voice. Lucky for us we've found book readers who are capable of communicating archaic meanings with nothing more than intonation."
The results are encouraging. "Now that downloading audiobooks from our shop is easier, barely a day goes by when I don't get a 'thank you' email from a listener," Ordover said. Ziegler agrees, "My best thank you emails arrive from high school students who were cast adrift with a hard assignment over a vacation and used the podcast to find their way through "Hamlet". It is overwhelming when you hear that not only did they pass their class, but they now love Shakespeare and want more."
Over and over again these two have received thank you missives from harried teachers, homeschooling moms, and students who have enjoyed the podcasts. One listener wrote to Ordover, "Once you trust a guide or teacher, then books that were previously out of reach are possible. So many of your listeners comment that books they've heretofore avoided they think they might appreciate—if not actually like—while reading with you."
While Teachers and students are adjusting to oncoming Common Core, it's good to know that help is out there and only a download away.
About Craft-A-Life, Inc and In Your Ear Shakespeare:
Crafting-a-Life, Inc. is a small business focusing on education as it touches on the worlds of classic literature, teaching, fiber arts, and knit design.
In Your Ear Shakespeare focuses on lifting Shakespeare off the page and back onto his feet. With passionate insight and fearless examination, we offer the works of William Shakespeare in the spirit for which they were originally intended – As entertainment for a diverse and current audience.