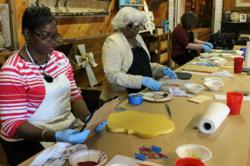 Shreveport-Bossier, LA (PRWEB) March 28, 2013
Shelby Lane's Closet is a hidden gem that provides a crafting experience that is sure to please group tours coming to Shreveport-Bossier.
Since the 1940's, Tommy Chandler has been reclaiming wood cast aside from old buildings and lumber, creating handcrafted products and wood flooring for Shreveport-Bossier and the surrounding areas. With the increased popularity of craft projects, Chandler repurposed his business to create Shelby Lane's Closet, named after his daughter, Shelby Lane.
Shelby Lane's Closet produces items for purchase as well as offering public and private crafting parties. Shelby Lane's Closet provides a one-of-a-kind experience with a variety of themed project parties to choose from such as centerpiece baskets, burlap fleur de lis wall décor, picture frames, crosses, holiday décor and more.
"We host all kinds of parties here. For instance, we had a bridal shower a few weeks ago in which the bride brought her bridesmaids in to make plank signs to display at the wedding, and after the wedding, the bridesmaids will take the signs home with them as a keepsake," said Brandy Hodges, Shelby Lane's Closet crafting associate.
For private parties, guests can also arrange to have catering brought into the private dining area, or have catering provided by Shelby Lane's Closet crafting associate, Leesa Ward.
Group tour operators are encouraged to make early reservations. Prices vary based upon project theme and party details. For more information, to make reservations and to learn about including Shelby Lane's Closet in your upcoming group tour, contact Erica Howard, tourism sales manager for the Shreveport-Bossier Convention and Tourist Bureau, at ehoward(at)sbct(dot)org or 800-551-8682 ext. 104. For media inquiries and high resolution images contact Deann Jewell at djewell(at)sbctb(dot)org or (318) 429-0645.