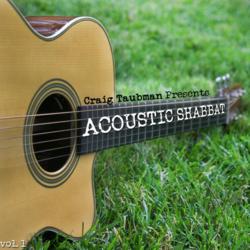 This eclectic mix of tracks is the ideal choice of music to prepare for Shabbat, for meditation, relaxation or when you simply need to chill out.
Los Angeles, CA (PRWEB) April 17, 2013
Craig Taubman Presents Acoustic Shabbat includes 15 tracks from 13 artists, including grammy award winners Laurence Juber and C Lanzbom, and the late singer-songwriter Debbie Friedman. The album features instrumental interpretations of well-known Jewish Shabbat songs.
1. Silent Prayer | Andrew Dennen
2. Angels Around Me | C Lanzbom
3. Eshet Chayil | C Lanzbom
4. Mi Shebeirach | Debbie Friedman
5. Swingin' on the Tree of Life | Eric Komar
6. Stairway to Shabbos | Larry Milder
7. Shalom Alechem | Laurence Juber
8. Nign Lshabes Vyontif | Pete Rushefsky
9. Kaddisch | Richard Locker
10. Hashkivenu | Sean Harkness
11. Lcha Dodi | Sean Harkness
12. Shabbat Prayer | Sheryl Braunstein
13. Shalom Aleichem, Salam Aleikum | Sol Tevél
14. Elohai | Naomi Less
15. Hoshia Na | Hillel Tigay
This eclectic mix of tracks is the ideal choice of music to prepare for Shabbat, for meditation, relaxation or when you simply need to chill out. Taubman's previous compilation recordings have been honored with 3 Parents' Choice Gold Awards, a NAPPA Award, and a Just Plain Folks Best Album Award.
Acoustic Shabbat is available now as a full album or individual song downloads at http://www.CraigNCo.com, Amazon and iTunes.
For more information about Craig Taubman Presents Acoustic Shabbat, please contact Craig 'N Co. at 818.760.1077 or info(at)craignco(dot)com.
ABOUT CRAIG TAUBMAN
Craig Taubman began his career at the tender of age of 15 when he picked up a guitar and began to lead music at Camp Ramah in Ojai, California. His musical styling has made his recordings an integral part of the Jewish community including his top-selling release, Friday Night Live, composed for a special Shabbat service held once a month at Sinai Temple with Rabbi David Wolpe in Los Angeles. His extensive musical catalog consists of over 50 recordings featuring everything from Celebrate: Jewish Lullabies to Rock'n Toontown, featuring backup vocals with Mickey and Minnie. Craig has also enjoyed a successful career in television and film, composing and directing music for the Fox children's series Rimba's Island, the critically acclaimed HBO animated series Happily Ever After and Shari Lewis' PBS series, Charley Horse Pizza. His music has been featured at the Coca Cola Olympic Pavilion in Atlanta as well as in the Paramount Pictures feature film Andre, New Line Cinema's Pinocchio, and Disney's animated short film, Recycle Rex. His songs have been recorded by such respected artists as Chita Rivera and Jennifer Holliday. Craig's sell-out concerts draw thousands of fans at such respected venues as Ravinia in Chicago, Valley Forge in Pennsylvania, Westbury Music Fair in New York, the Greek Theater in Los Angeles and three special performances at the White House.
COMPLIMENTARY PROMOTIONAL COPIES AVAILABLE.