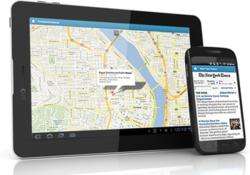 Custom school apps can display photo galleries, YouTube videos and soundboards, highlighting student projects and events
Winnipeg, MB (PRWEB) October 31, 2012
Schools can now design their own custom app using Andromo App Maker for Android. Andromo is an online service for creating Android apps with no coding required. Schools are already using Andromo to share newsletters, event calendars, photo galleries, videos and more.
With the enormous popularity of Android smartphones, savvy schools are using apps to keep in touch with students, parents and staff. The ability to display images, PDF documents, videos and more make apps ideally suited for distributing up-to-the-moment school news. With Andromo's new online app making service, now any school can design a custom app quickly, easily and affordably.
Andromo's visual, no-coding approach is ideal for schools who want to create their own Android app. App features are easily added by choosing from a list of popular activities. For instance, schools can include their website and Facebook pages where current school news is listed as well as schedules and newsletters in PDF format. 'Phone us' and 'email us' functions are available allowing parents to easily get in touch with the school while on-the-go.
"Apps are the perfect way for schools to keep everyone informed, and they can also be a fun way to showcase school community events," says Andromo founder Colin Adams. "Custom school apps can display photo galleries, YouTube videos and soundboards, highlighting student projects and events."
In addition to Facebook, Twitter, PDF and contact activities, Andromo also offers features like Podcast and SHOUTcast Radio stations, perfect for streaming broadcasts from school Internet radio stations. Innovative features and capabilities are being added to Andromo all the time.
To sign up today and start making custom school apps, subscribe to Andromo at http://www.andromo.com for $25/month.
About Andromo App Maker for Android
Andromo is a trademark of Indigo Rose Software Corporation. Privately held, Indigo Rose Software has been creating award-winning software development tools since 1991. Our programming tools - AutoPlay Media Studio, Autorun MAX!, MSI Factory, Setup Factory, TrueUpdate, and Visual Patch - have been used to deliver software to hundreds of millions of systems worldwide.