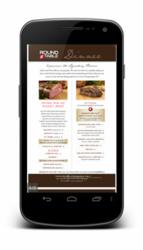 Andromo makes it easy to turn ebooks and other PDF documents into Android apps. There's no coding required, just point and click and generate your app in minutes.
Winnipeg, MB (PRWEB) September 30, 2012
Now anyone with an ebook, training guide, or informational PDF document can turn it into a professional Android app using Andromo. Andromo is an affordable online service for creating Android apps with no programming required. The new PDF/E-book feature lets writers reach a wider audience by making their content available as apps for Android devices.
Andromo App Maker for Android is an online service that writers can use to design custom apps simply by choosing from a list of popular features. Including a PDF in an app is as easy as selecting Andromo's PDF activity, then browsing to the document's location to upload. Andromo will then build an app which embeds the PDF document into the app for easy viewing and distribution.
E-books are an increasingly popular way for writers to share written materials, whether it is self-published fiction, how-to books, technical service manuals, or product catalogues. Turning an ebook into an Android app, can reach even more readers by being a mere tap away on Android devices. Writers can use Andromo to make an e-book app in minutes that is ready for immediate distribution by web, email or in the ever-expanding Google Play Android Market.
"The PDF activity was one of our top-requested new features," says Andromo founder Colin Adams. "It's a really easy way for writers to expand and target their readership. Plus, their readers are going to love the convenience of reading books and manuals right on their Android devices."
In addition to the PDF activity, Andromo offers a host of other popular features that can be integrated into custom-made apps. Along with their PDF documents, writers can include their Facebook page, Twitter feed, YouTube videos, Flickr gallery, email and phone contact activities, and much more. With many activities to choose from, apps built with Andromo offer a more interactive experience than is possible with a standalone e-book file.
To turn e-books into Android apps, subscribe to Andromo at http://www.andromo.com for only $25/month.
About Andromo App Maker for Android
Andromo is a trademark of Indigo Rose Software Corporation. Privately held, Indigo Rose Software has been creating award-winning software development tools since 1991. Our programming tools - AutoPlay Media Studio, Autorun MAX!, MSI Factory, Setup Factory, TrueUpdate, and Visual Patch - have been used to deliver software to hundreds of millions of systems worldwide.