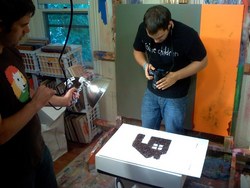 "We're honored to be able to give non-profit organizations the creative marketing materials they need to support their mission — materials they otherwise could not afford." - Alison Judah, President
Moorestown, NJ (PRWEB) July 23, 2010
HYPNO DESIGN invites non-profit organizations to submit applications for their 8th annual CreateAthon, scheduled for October 7-8, 2010. CreateAthon is a 24-hour "all-nighter" creative marketing blitz during which HYPNO DESIGN provides marketing and creative services to local area non-profit organizations on a pro-bono basis.
Over the past seven years, HYPNO DESIGN'S Philadelphia South Jersey CreateAthon event has provided marketing services to 60 non-profit organizations in the Philadelphia / South Jersey region, producing hundreds of projects from logos, to billboard campaigns, to websites and more. The market value of the work produced during the events is estimated at $1.1M, all provided at no cost to the selected non-profits.
"This marks our eighth year now providing these much needed services, and in the current economy non-profits need our help more than ever," said Alison Judah, president of HYPNO DESIGN. "We're honored to be able to give non-profit organizations the creative marketing materials they need to support their mission — materials they otherwise could not afford."
The round-the-clock creative and design work will begin at 8 a.m. on Thursday. Work will be presented to the non-profits Friday at 8 a.m. HYPNO DESIGN will receive client changes on the spot, then send the pieces to press. Burlington Press, of Burlington, NJ has once again offered their printing services for free as well.
The deadline for CreateAthon 2010 applications is July 30th. Organizations selected by HYPNO DESIGN to receive CreateAthon services will be announced by August 27th. Non-profits can visit Philadelphia Web Design to download an application and learn more.
Established in 1994, HYPNO DESIGN provides a broad array of integrated strategic marketing and design services and specializes in website development and corporate identity. Major clients represented by HYPNO DESIGN include those in healthcare, pharmaceutical, publishing, entertainment, professional services and retail sectors.
###