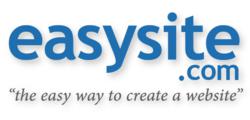 (PRWEB) March 14, 2013
Easysite.com has just released a new do it yourself website building system that is specifically designed for businesses and organizations that want a great-looking, easy-to-update website that gets results with the search engines and integrates well with social media.
"I couldn't be happier with the new business website builder. It's really amazing and feels great when thousands of customers thank us for showing them how simple it is to create a website with a professional look," says Steve Sivulka, Easysite's founder. "We took all of the ease-of-use of the older website building service and added in everything today's businesses and organizations need to create a website."
Since 2005 Easysite has shown thousands of customers how to create a simple website and has been featured on many different platforms such as FOX and KillerStartUps.com. Over the last 2 years Easysite has started to focus on showing business owners how to create a business website that looks professional and is search engine friendly as well as social media friendly.
"It was basically a complete rewrite. Honestly, Google rules the world right now. Because of this, we rewrote every bit of the new website builder with Google and other search engines in mind," continues Sivulka. The result of Easysite's development is an improved website creator that creates a professional look and helps small business owners conquer the ever-important climb to the top of search engine results pages.
There's also integration with popular social networking sites. It's easy to add Facebook Like buttons throughout the site, share items to Twitter. Even Pinterest makes an appearance.
The new version is very much up to date with what is in style on the web. All the website looks are completely new and professionally designed. The new business websites are wider, yet still look great on the mobile devices such as iPhone, iPad and Android.
Another key feature of the new and improved Easysite is the editor piece. Easysite's built-in webpage editor is like having a word processor and publishing tool built right into your site. It looks and feels just like a word processor and is just as easy to use. Using this, users can now easily layout text and pictures, change fonts, sizing, colors and more.
Speaking of fonts, the new version of Easysite has over 100 font choices built right into the site. Utilizing new technology, the new font choices are used to render real text on the site. This means that search engines will have no problem reading the pages of the website.
HD video clip support also made its way into the mix. Now customers can upload high definition video clips and view them at full-screen right within the site. The new player utilizes the browser's latest HTML 5 video technology for playback.
The new version of Easysite offers small business owners a simple and inexpensive way to create a website that is search engine friendly and social media friendly.
As always, Easysite.com actually answers their phones and helps their customers. Free telephone and email support has always been a key differentiator of Easysite. Tried calling Google or Facebook lately?