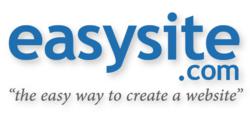 (PRWEB) March 17, 2013
Easysite was born into the industry back in 2005 with the idea of making it "easy" for people to create a website while keeping it affordable and embracing a professional look. Most of Easysite's customers were using the platform to build family type or personal websites over the years. Recently, Easysite started listening to it's customers demands asking for a simple yet professional platform that allows business owners to build a "business website" which offers features such as an online store to list and sell items, a blog, social media integration, HD video, and most importantly search engine friendly pages that are designed with Google in mind! Starting with those request, Easysite went to work for 2 long years to not only design a new business platform but to exceed expectations and create functionality that puts them ahead of the curve compared to most do it yourself website companies.
Now, in early 2013 Easysite is announcing it's do it yourself business platform where business customers can create a simple website in about 2 hours without having to know any website code. Their business website builder walks customers through creating a business website step by step. Besides email support Easysite even offer step-by-step videos that shows cusotmers exactly how to create and update the website, and if you customers don't like videos they can simply use Easysite's phone support and Easysite will walk customers through anything they need help with over the phone. For those business owners that want to know how to create a business website and avoid dealing with flakey web designers and outrageous fees, this seems to be the best option.
On the other hand many business owners need a website but don't have the time to even think about where to start in order to get it done. In addition to that business owners don't want to get taken advantage of in regards to both pricing and a time line of how long it will take to see the final version of their site. For those business owners, Easysite is one of the best options on the web as Easysite is currently offering a special price of $995 for a custom website that Easysite's professional team of web developers designs for the business owner in just about 2 weeks!
When it comes to small business websites, web designers know that business owners have money because they run a business and most web designers will try to take advantage of potential customers in that regard.
As mentioned earlier, Easysite offers a do it yourself website option and they also offer very simple 1 minute videos that literally shows their customers how to create and update their website so they don't have to pay someone outrageous prices to make a simple change on their site in the future. Easysite tells their customers that in order to make simple changes to their site it's as easy as opening a Microsoft word document, editing it and saving it! Easysite makes it so simple for the customer to add features such as an online store, social media buttons, photo gallery or adding additional web pages, etc. If a customer has any questions or problems with their website, Easysite also offers award winning phone and email support as mentioned earlier. Easysite has thought long and hard about how to make it easy for businesses to have an affordable and professional way of getting online and making a positive impression.