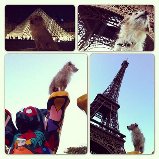 PetSociale.com is a bold new social discovery site where animal lovers and pets come together...
Boston, MA (PRWEB) March 27, 2013
Just over one year since launching the rising social discovery site MyShindigs.com, entrepreneurial duo Jason Andrews and Matthew Tautt are at it once again, with the launch of a game changing social discovery site known as PetSociale.com. PetSociale is a new social networking site for pet owners and pets as well as those who service the pet industry including breeders, veterinarians, retailers and anyone else interested in exchanging information, starting local pet related events, etc. "First and foremost, we want this site to be both fun and informative. We are excited and passionate about bringing people an online social platform that is both useful and beneficial to them and more importantly to animals and pets alike," say co-founders Jason Andrews and Matthew Tautt.
The timing of this innovative new site is impeccable. This is a time of shifting pet trends such as innovations in pet health, an awareness of subpar less nutritious commercial pet food, an emergence of new services such as cat cafés and DOGTV and continued recognition of the importance of pets in our lives. The importance of health and fitness extends beyond humans and to the realm of pet ownership and with good reason. Increasingly studies are revealing that commercial pet food is no better for animals than a daily diet of McDonald's or Taco Bell is for people.
"PetSociale is a place where people can educate one another and share information on how to better care for their pets as well as staying up to date with some of these new trends. Opening our arms to the entire pet community including veterinarians and those who service pet owners, we are increasing the quality of that conversation and education," say Jason and Matthew.
There are other pet websites but few are as simple to use and as easy to access. Enriching the lives and better caring for the health of pets is of the utmost importance to pet owners. PetSociale is a free of charge comprehensive website that provides pet owners and animal lovers with the tools to achieve these goals. The pet industry itself is evolving and there is finally an online platform to service all concerned. Keeping up with the explosion of related products and services can be overwhelming to owners and animal lovers. Having a site where people can come together, socialize, and discuss some of these pertinent topics of importance seems like the perfect place to start.
Dubbed as the Facebook for pets the website users are able to sign up as a pet or themselves and are having fun doing so. One user's profile called Cat in the Hat starts off as 'Hi…I mean meow…' as one satirical example.
"We encourage people to share information, add content like videos, pictures, events, and articles creating a place where others will see the value and true entertainment that PetSociale has to offer. Creation of a forum for the pet community to engage in benefits everyone. One of our favourite site features is Most Valuable Pets; this is an area that allows pet owners to vote for their favourite pet every day," add the site's co-founders.
A bold new concept and resource for learning about, and distilling the latest innovations in the pet industry. Pets and pet owners are the true winners at a time when new services, products, medications, shows and conferences, retailers and ecommerce, and even apps are entering the marketplace.
About PetSociale
PetSociale is a social discovery site for pet owners and their pets. It is a place online for pet owners to connect and share information with others who are passionate about pet ownership as well as those who service the pet community such as vets, breeders, service providers, retailers and manufacturers of food and related products. For more information, go to http://www.petsociale.com and register today for free.