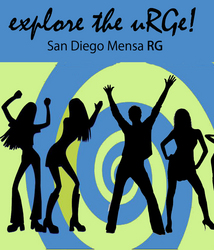 The goal of holding this contest is to attract bright and creative people to Mensa
San Diego, California (PRWEB) March 21, 2009
San Diego Mensa invites entries for its Creative uRGe contest in the Creative writing (short story, Essay writing, poetry), self-published and unpublished books, photography, self-composed music, self-recorded/published music and homemade digital videos categories. The contest is being offered in conjunction of its annual Regional Gathering (RG) and has "Share your Passion" as its theme.
The entry fee for the contest is waived for attendees registered for the RG. The winners of the contest will be announced at the San Diego Mensa Regional Gathering being held at the Hilton, Mission Valley from May 22 to May 25. The deadline for submitting entries to the contest is April 15.
MENSA is a 100,000 member worldwide organization with membership limited to people in the top two percentile of IQ. People can qualify for Mensa membership by taking a supervised, standardized test or by submitting evidence of prior testing in the form of scores from a supervised, standardized test like the Stanford Binet, the Miller Analogies Test or the GMAT. A supervised test is being offered on May 23 at 10 AM at the San Diego Mensa Regional Gathering at Hilton, Mission Valley.
"The goal of holding this contest is to attract bright and creative people to Mensa," said LaRae Bakerink, president of San Diego Mensa. "Statistically, more than 60,000 people in the San Diego metropolitan area are eligible to become members of Mensa. We would like to have as many of those who are qualified."
In addition to the Regional Gathering, San Diego Mensa is also hosting Mind Games in April, 2010. Started in 1990, Mind Games® is one of the most respected national games competitions where Mensa members gather and play new-to-the-market games over a three-day period and rank their favorites.
The winning works will get an elegant award, and will be published on Mensa's website, its Facebook page, its blogs and its YouTube account as applicable. in addition the winning entries for the Creative writing categories (short story, essay writing and poetry) will be published in a future edition of the MENSAN: San Diego Mensa's monthly publication. Further, the winning entries will also be published by San Diego Mensa's media sponsors/collaborators.
In addition to the elegant awards for winners, there are also a number of valuable prizes, which are detailed on the contest website. The best entry in Creative Writing/Essays will get a voucher worth $295, good towards any Creative Writing class at the UC San Diego Extension.
The Creative uRGe contest is co-sponsored by University of California, San Diego Extension, Reader's Views, Mitchell International, WBB Securities, LLC, Verbivore.com, and "Welcome to the USA," a book by Kalpanik S.
"We are happy to sponsor Mensa's Creative writing contest. It makes sense for a organization like UC San Diego Extension to have some of San Diego's smartest folks in our classrooms. We're happy to be on board," noted Stephanie Stevens.
To learn more about San Diego Mensa, the RG, and the Creative uRGe contest, visit San Diego Mensa Website or send an email to submissions (at) sdmensa (dot) com or go to The Creative uRGe contest webpage.
# # #