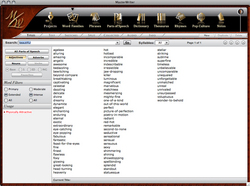 In a competitive world where good is rarely good enough, MasterWriter will help the creative writer to consistently create the exceptional
Santa Barbara, CA (PRWEB) October 6, 2009
MasterWriter Inc. has just released MasterWriter creative writing software, a suite of writing tools which will open up a new world of possibilities for descriptive words and ideas for creative writers. The new program introduces two revolutionary dictionaries, Word Families and Parts of Speech, which are unlike any other reference dictionary or thesaurus around.
On the impetus behind the product, MasterWriter creator Barry DeVorzon notes, "We've become a visual society. A society that is drawn to all the entertaining options provided by television, movies, video games, iPhones, YouTube, and social networking. In this age, people with leisure time will rarely curl up with a good book. This is unfortunate because reading is where we used to grow and nourish our descriptive word vocabularies. As a result, our descriptive word vocabularies are suffering, and in the case of our young people, hardly exist. MasterWriter addresses this problem and presents word and phrasal possibilities in a way that will make it not only an essential tool for creative writers, but for students of all ages as well."
MasterWriter's collection of reference dictionaries, in addition to Word Families and Parts of Speech, include a Phrases dictionary, a Pop-Culture Dictionary that provides information on over 11,000 entries, a searchable Bible, a Rhyming dictionary, and The Merriam-Webster Dictionary and Thesaurus.
Building the content and the delivery system for all of the reference dictionaries into one easy-to-use program was a six-year effort. Every dictionary was created from scratch, with the exception of The Merriam-Webster Dictionary and Thesaurus.
MasterWriter began as software for songwriters, and is currently used by an impressive list of songwriters including Gwen Stefani, Rob Thomas, Amy Grant, David Foster, Kenneth "Baby Face" Edmunds, Kenny Loggins, and Clint Black, to name a few. With the addition of Word Families, Parts of Speech, and a number of other new features, MasterWriter has evolved into a creative writing software for writers of all kinds.
"The greatest enemy of creativity is distraction. Searching a bookshelf full of reference dictionaries, or bouncing from one website to the next trying to find the right word or phrase can interrupt the creative process. With MasterWriter, the creative writer can search on a word and instantly see all of the possibilities in one place, including a vast array of descriptive words that he or she will not find in any other reference dictionary or thesaurus," says Barry DeVorzon, the Grammy-winning songwriter who created MasterWriter.
The program is an invaluable tool during the writing process, and in the editing phase as well. "In a competitive world where good is rarely good enough, MasterWriter will help the creative writer to consistently create the exceptional," notes DeVorzon.
An online demo of MasterWriter creative writing software can be viewed at http://www.MasterWriter.com. A free, 30-day trial is also available for download.
About MasterWriter Inc.:
MasterWriter Inc. was founded in 2003 by veteran songwriters, Barry DeVorzon, and Michael Towers. The program was introduced at MacWorld Expo in San Francisco, and won a Best of Show Award. The company is headquartered in Santa Barbara, California. For more information, visit http://www.MasterWriter.com.
###