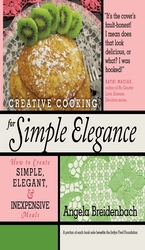 Missoula, MT (Vocus) November 2, 2010
Top chef television competitions. Traveling food connoisseurs. Mafia-like cake bosses. If life was a fashion show, cooking would be the new black. But even in our current food-love extravaganza, to many the idea of cooking still seems daunting. The conundrum remains the same – how do you make delicious, healthy meals that don't require a huge investment of time and money? Enter: Angela Breidenbach. In her new cookbook, Creative Cooking for Simple Elegance: How to Create Simple, Elegant, and Inexpensive Meals (published by WestBow Press), Breidenbach, a Weight Watcher® leader and ambassador, shows how even the most inexperienced cook can make flavorful meals that are easy on your wallet and your waistline.
Creative Cooking for Simple Elegance includes a range of recipes, from soups to entrees, guiding cooks with easy-to-following instructions that lead to such delectable creations as Breidenbach's Swedish pancakes, bruchetta ensalada and sweet potato and apple streusel.
Fully taking the novice cook under her wing, Breidenbach leaves no stone unturned as she guides readers through a pantry-cleaning, detailing how to turn your pantry into a cook-friendly timesaver. Removing the mystery behind the skilled chef's bag of tricks, she teaches readers the keys to choosing the right basics, such as oils, salts and sugars.
Breidenbach also includes notations for Celiac, Irritable Bowel Disorders (IBD) and weight loss diets. Creative Cooking for Simple Elegance also features creative uses for leftovers, delicious recipes for Christmas treats and fun ideas of how to incorporate international flavors into your cuisine.
Accompanied with full color photos, Creative Cooking for Simple Elegance is the perfect gift for anyone wanting to develop their culinary prowess and have fun along the way.
A portion of each book sale will go to support the Jadyn Fred Foundation, an organization that provides financial support for children ages newborn-18 who have a severe medical liability due to treatments of cancer or other life-threatening diseases. Information on the Jadyn Fred Foundation can be found at jadynfred.org.
About the Author
Angela Breidenbach is Mrs. Montana International 2009, a multi-award winning inspirational speaker and the author of Gems of Wisdom: For a Treasure-filled Life, Gems of Wisdom Companion Guide and the Creative Cooking Series. She is a certified mentor and peer counselor and life coach. She also serves as an assisting minister for her church congregation. She is happily married, has a combined family of six adult children and loves playing in the kitchen with her grandchildren. For more information, visit AngelaBreidenbach.com.
About WestBow Press
WestBow Press is a strategic self-publishing alliance of Thomas Nelson, the world's premier Christian publisher, and Author Solutions, Inc. (ASI), the world leader in the fastest-growing segment of publishing. For more information, visit westbowpress.com.
###