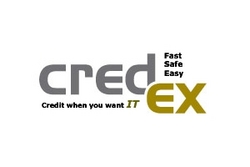 Their proven platform will give our customers deferred billing options and instant credit enabling our customers to pay on their terms. Cred-Ex was an attractive choice for TheShoeMart.com in delivering an alternative payment solution to our customers. Through our alliance with Cred-Ex, TheShoeMart.com is further enhancing our customers' shopping experience
Secaucus, New Jersey (PRWEB) September 30, 2009
Cred-Ex, a leading provider of alternative payments to Online Retailers, and TheShoeMart.com reached a definite agreement to add Cred-Ex's online payment method to their website. Cred-Ex's instant credit solution will be enabled through CardinalCommerce's Centinel® payment platform.
"Cred-Ex gives us another way for our customers to pay," said Dan Zapatka, TheShoeMart.com's Internet Operations Manager. He adds, "Their proven platform will give our customers deferred billing options and instant credit enabling our customers to pay on their terms. Cred-Ex was an attractive choice for TheShoeMart.com in delivering an alternative payment solution to our customers. Through our alliance with Cred-Ex, TheShoeMart.com is further enhancing our customers' shopping experience," said Zapatka.
George Eubank, Senior Vice President, Sales, said, "Cred-Ex is very excited about working with TheShoeMart.com. Being family owned and in business for over half a century, TheShoeMart.com understands their customers' need for instant credit and deferred billing options, especially in an economic environment where credit granters are slashing credit limits and raising fees."
TheShoeMart.com will enable the Cred-Ex solution through CardinalCommerce's flagship product, Cardinal Centinel®, the worldwide leading authentication and alternative payment platform. Cardinal Centinel offers merchants multiple payment brands through one single streamlined integration. Once integrated to the patented Centinel platform, TheShoeMart.com will have the ability to offer their customers over twenty-five secure payment options, including Cred-Ex, quickly and easily.
About TheShoeMart.com:
TheShoeMart.com is an online retailer of the most sought-after brands of shoes, such as Alden shoes. Styles are available for men, women, and children. They are a family-owned business that has served customers for more than 45 years. For more information on the latest styles of shoes and to find one in the size you're looking for, please visit http://www.TheShoeMart.com or call 800-850-7463.
About Cred-Ex:
Cred-Ex (http://www.cred-ex.com) is the main brand of Emerging Payments Technologies, Inc. that has been a leader in alternative billing for over 10 years. Emerging Payments Technologies, Inc. began developing the Cred-Ex platform and brand in 2004 to lead the trend in online billing, e-Commerce, and now m-Commerce. Express Verifiable Authorization is the corner stone of the Cred-Ex process. Patented in 2007*, it allows Cred-Ex to identify applicants and make instantaneous credit decisions in less than 5 seconds. Cred-Ex's owners have built several major companies and are recognized leaders in Europe in the main stream and alternative payments industry.
*Patent #US 7,177,837,B2
About CardinalCommerce:
CardinalCommerce Corporation is the global leader in enabling authenticated payments, secure transactions and alternative payment brands for both e-Commerce and mobile commerce. Cardinal Centinel®** enables payment brands such as Verified by Visa, MasterCard®, PayPal™, Google™, Amazon, eBillme™, Cred-Ex®, and more to a network of over 50,000 merchants.
Cardinal's mobile platform, Cardinal MAX™, makes it easy for merchants to sell through the mobile channel by linking them directly with consumer mobile phones. Cardinal's proprietary and easily deployable technology provides consumers, merchants, credit/debit card issuers, and processors with the ability to conduct authenticated Internet, wireless, and mobile transactions safely and securely.
Headquartered in Cleveland, Ohio, with facilities in the United States, Europe, and Africa, Cardinal services a worldwide customer base. For more information, visit http://www.cardinalcommerce.com.
**Patent #US 7,051,002 B2
Cred-Ex contact: George Eubank, Senior Vice President, Sales
201-865-7600 x112
# # #