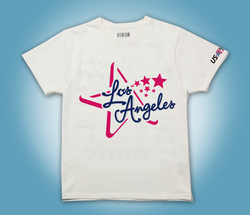 The CUP promotion will encourage Chinese tourists to support merchants by making purchases simpler and easier.
City of Industry, CA (Vocus) September 20, 2010
With the advent of booming Chinese tourism, U.S. merchants are trying to reach out to a growing market segment of Chinese consumers with spending power. Chinese tourism is constantly growing, and is expected to reach 579,000 Chinese travelers to the United States by 2011. USBSI is sponsoring a T-Shirt give away campaign through its merchants within the U.S. to promote the use of the CUP cards by Chinese tourists.
This promotion offers a free "I Love LA" T-Shirt to CUP card holders at any participating USBSI merchant that has a decal of "CUP Accepted Here" in plain sight. The decal will indicate that the merchant has a credit card machine capable of processing CUP cards. This promotion began on the 1st of September in 2010 (09/01/2010), and will end on the 31st of May in 2011 (05/31/2011), or until all of the T-Shirts have been redeemed. In order to be eligible for the promotion, CUP card holders must spend a total of at least $200 USD on one or more visits with the same CUP card at the same merchant location. This promotion is cumulative, so spending $400 USD with one CUP card at one merchant location will give two (2) T-Shirts, $600 will give three (3), etc., while supplies last.
This promotion intends not only to show that the Chinese tourism industry is booming, but it also attempts to build loyalty with merchants. Chris Chang, President and CEO of USBSI stated that this promotion "will encourage Chinese tourists to support merchants by making purchases simpler and easier."
USBSI can help merchants accept CUP cards with minimal transaction fees and set-up costs. Transactions are processed securely and electronically at the point-of-sale and the amount is conveniently and directly deducted from the cardholder's account and then deposited into the merchant account. In addition, there is no pre-set limit to the amount a cardholder can spend, other than what is available in his/her account. For a limited time, receive a credit card terminal to use for free and start accepting CUP cards now. Just call USBSI's at 888-525-8558 and ask about CUP.
About U.S. Bankcard Services, Inc. (USBSI)
U.S. Bankcard Services, Inc. is a top rated "MSP", offering competitive rates, superb customer service support and cutting edge technology for credit card processing service. USBSI offers a wide array of value-added services, including QuickDining.com (QD) Restaurant eCommerce, Gift Card services, Check Gaurantee, PCI –DSS Compliance Consultancy, 24-7 Multilingual Customer Service and technical support.
###