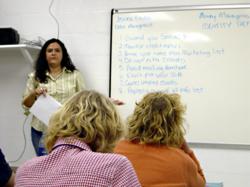 It's great to know that they put our educational information to use
Lighthouse Point, FL (PRWEB) July 30, 2012
Debt Management Credit Counseling Corp (dmcconline.org), a nonprofit charitable organization ("DMCC"), starts its ninth year of teaching financial literacy classes to the homeless at Broward Outreach Center (BOC) in Pompano Beach, FL. This year marks over 400 classes taught at this location. Since 2004 DMCC has provided BOC with certified credit counselors to teach its money management classes which include subjects such as budgeting, wise use of credit, credit reports, credit scores, banking and debt repayment. These weekly classes are part of BOC's program that helps their clients get back on their feet.
The Pompano Beach location of BOC was one of the first emergency shelters offering a comprehensive recovery program for the homeless in South Broward County. BOC clients are taught life skills, which help them to develop goals for going back into the community as productive citizens. DMCC welcomes the opportunity to be a part of this significant process. DMCC is proud to provide their volunteer service to residents of BOC. As a credit counseling organization that is committed to the education of consumers, DMCC recognizes the importance of knowing how to manage money and wants to make sure no one is left behind on this knowledge. Their weekly financial classes include a variety of topics, each taught in an easy to understand lecture where BOC clients become an integrated part of the lessons. Our counselors also provide one on one budget counseling for individuals with the desire to get a better understanding of their personal finances. "I receive great feedback when providing these classes to BOC residents. It's great to know that they put our educational information to use and will always benefit from this knowledge" said Jessica Stokes, Education Coordinator for Debt Management Credit Counseling Corp.
As an added benefit for BOC clients, DMCC has coordinated a bike donation program. Over 500 bikes have been collected and donated to BOC with the hopes of adding mobility to the graduating clients. To inquire about having DMCC teach classes at a facility, to schedule a seminar or workshop, contact the Education Department by calling 954-418-1466 or send an email to education@dmcconline.org. Consumers who wish to contact DMCC to formulate a budget or discuss a debt repayment solution free or charge, should call (866) 618-3328 to speak to a certified credit counselor.
About Debt Management Credit Counseling Corp.
DMCC is a nonprofit 501(c)(3) public charity committed to educating consumers on financial issues and providing personal assistance to consumers overextended with debt. Education is provided free of charge to consumers via seminars, workshops, a proprietary financial literacy program, and a vast array of online and printed materials. Free personal counseling is provided to consumers to identify the best options for the repayment of their debt. Consumers interested in speaking with a DMCC certified credit counselor may call (866) 618-3328 or request help at dmcconline.org. DMCC is a HUD Approved Housing Counseling Agency, is approved by the U.S. Trustee to provide bankruptcy counseling and education, and has an A+ rating with the Better Business Bureau.