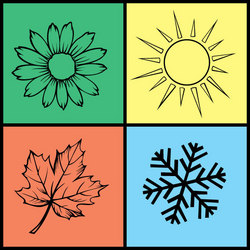 Many people value the changing of the season and we felt it was an important need to that should be filled.
Three Rivers, CA (PRWEB) December 21, 2010
In the Light Urns, a cremation urn company, released a new line of biodegradable cremation urns this week called the Four Seasons Urns. The urns are completely biodegradable and have been approved by the Green Burial Council.
Measureing 11" x 8.5" x 4" each urn has a different design, representing the different seasons of the year. The designs for each season are engraved on the 93 square inch face of the urn.
Handmade of Red Oak in California these urns have a simple and eloquent look. The top, which slides open is sealed with a finely engineered 1mm piece of wood, which clicks the top shut. A Walnut strip of wood accents the top sliding piece. The urn will house the cremated remains of a person weighing up to 275 pounds before cremation.
A flower and grass is the design for spring, while the wind sweeping the snow is the design for winter; the bright sun with water at the bottom is the design for summer and a tree with aging leaves is the design for autumn. The designs act as a border for personalized engraving of the name, dates of birth and passing and words of sentiment. Because of the large size of the urn, a great deal of text can be engraved on the urn.
This is the first line of memorial urns that incorporates the four seasons. Susan Fraser, Founder and President of In the Light Urns said, "Many people value the changing of the season and we felt it was an important need to that should be filled." The season chosen can reflect the loved one's favorite time of year or the season in which were born or passed.
In the Light Urns is a memorial store that has several exclusive product lines, found only with In the Light Urns. In business since 2002, In the Light Urns is on the forefront of search and development of unique memorials and cremation urns that fit the needs of many Americans. Other exclusive memorial collections include the Peaceful Pillow, Art Urns by Starlight Originals and Boy Scouts of America® Urns. In the Light Urns is also producing a great deal of academic and informative writings to teach families about the funeral industry and the history of memorializing a loved one. In the light Urns has also released a mobile application that can be download on Android mobile software and is free. This application was completed by several prominent funeral professionals and gives the user a great deal of useful funeral information about creating a memorable experience during a service.
For more information visit In the Light Urns or contact Susan Fraser at (800) 757-3488.
###