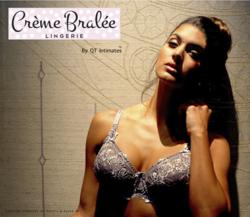 "Women come in all shape and sizes and they all deserve beautiful, comfortable, and affordable lingerie. Crème Bralée offers just that – great fitting and elegant garments without sacrificing anyone's budget."
New York, NY (PRWEB) March 12, 2013
From writing blogs and posting on social media, to hosting trunk shows and bridal showers, lingerie retailers are constantly looking for ways to foster community with the women they support. Sometimes that's as simple as offering the hottest fashion trends in their boutique or doing a personal fitting. Yet many retailers continue to note that one of the most difficult challenges they face in the competitive fashion retail market involves the ability to offer a complete collection to fit each and every woman they serve.
With over 68 years of intimate apparel industry experience, the team at Q-T Intimates recognized the need for affordable fashion to fill the void in plus sized market. With the exciting introduction of the Crème Bralée Lingerie collection, a fashion-forward line of bras and panties available in an extensive size range, full-busted and full-figured women will have no problem filling their wardrobes with the lingerie they've been lusting over.
"Our Crème Bralée collection offers a amazing assortment – inspired by luxury and opulence. We concentrated on the details of styling and fit and had every woman's shape and need in mind when designing the fabulous new line," said Meryl Kutzin, VP of Merchandising. "Each piece celebrates a shapely and curvy figure." Crème Bralée will be available in those hard-to-find sizes of 32-46, C-G cup.
"We've sourced the highest-quality fabrics and labored over perfecting our fit, while continuing to offer an ideal price point for retailers. Our collection has a number of design elements that make each piece look like they are runway ready. We used French inspired lace and embroideries, soft and silky satin fabrics, crystals charms, and beaded trim detail," says Liz Marrell, Designer.
Sexy and sophisticated, the Crème Bralée collection features competitive and affordable prices for bras (32-46, C-G cups) and thongs and panties (7-14). Coordinating garter belts are also available with select styles.
"Women come in all shape and sizes and they all deserve beautiful, comfortable, and affordable lingerie," noted Kutzin. "Crème Bralée offers just that – great fitting and elegant garments without sacrificing anyone's budget."
The Crème Bralée Lingerie collection is designed and manufactured by Q-T Intimates. Since 1945, Q-T has been specializing in all categories of intimates; from basics and fashion sets, to bridal, nursing, sleepwear, dancewear, and shapewear. Q-T Intimates is also the licensee for La Leche League International Intimates (LLLI), under which they design and manufacture a fabulous line of nursing intimate apparel, perfect for the fashion conscious, breastfeeding mother. In addition to the many exciting brands that Q-T offers, they continue to supply many top retailers with private label programs – designing, fitting, and manufacturing to each client's needs.
Want to Learn More?
The Q-T Intimates collections can be seen online at:
http://www.qtbras.com
http://www.cremebralee.com
http://www.lllibras.com
Or see the collections in person at Q-T's fabulous New York showroom:
152 Madison Avenue, Suite 1100
New York City, NY.
Please call 212-532-8930 x317 to schedule an appointment.