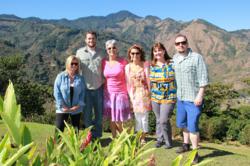 Visiting coffee's point of origin gives coffee shop owners a greater understanding of what it takes to bring awesome coffee to their customers
Columbus, Ohio (PRWEB) February 28, 2013
Crimson Cup Coffee & Tea, a Columbus, Ohio-based coffee roaster and coffee franchise alternative, recently led a group of four Ohio coffee house owners to the source of some of the world's finest and most sought-after coffees: Costa Rica's Hacienda Rio Negro and Hacienda La Minita coffee plantations.
"Visiting coffee's point of origin gives coffee shop owners a greater understanding of what it takes to bring awesome coffee to their customers," said Greg Ubert, founder and president. "We chose to visit these plantations because they are leaders in ecologically and economically sustainable coffee production. We believe the world's finest coffee tastes even better when every cup supports local communities, whether in the country of origin or here in the U.S."
Brandon Bir, a coffee and training specialist with Crimson Cup, led the tour. Participating owners included Tracy Heitmeyer of 5 Bean Coffee (Reynoldsburg), Sheri Thomas of Sheri's Coffee House (Norwalk), Lynne Calvelage of Coffee Amici(Findley) and Deborah Fulks of Court Street Coffee (Athens).
In addition to exploring natural wonders such as remote waterfalls, the group experienced firsthand most of the steps required to process coffee. After harvest, the coffee cherries are washed and depulped to prepare for the fermentation tanks. Once the mucilage separates from the bean, the beans are dried and initially sorted by machine. As an added step, workers then hand-sort the beans into different quality grades before bagging the green coffee for shipment. Crimson Cup imports only the finest – Class 1, Specialty Grade – coffee beans.
Group members also evaluated locally grown coffees through an elaborate ritual called cupping. One day, they cupped different grades of coffee. The next, they cupped seven different varietal coffees.
"We cup coffees at the source to select the varieties we want to import," Bir said. "This ensures that we're bringing the best-tasting coffee available home to our customers."
This is only one of several trips to origin that Crimson Cup team members plan to take this year. Ubert will be traveling to a small coffee farm in the mountains of Honduras this spring. After a previous visit, Crimson Cup helped to fund a series of latrines for the village where the workers who plant, tend, harvest and process the coffee live.
"By establishing direct-trade relationships with small-plot farmers, we're moving beyond Fair Trade to ensure that farmers and their workers receive a larger share of the revenue from the world's largest cash crop," Ubert said. "It's a winning strategy for everyone involved: coffee farmers and their workers can enjoy a better standard of living, coffee roasters can secure a lasting supply of quality coffee, and coffee house customers can savor truly delicious coffee produced in harmony with the environment and humanity."
About Crimson Cup Coffee & Tea
Since 1991, Crimson Cup Coffee & Tea has roasted and packaged quality, great-tasting coffee in Columbus, Ohio and taught independent business owners how to be successful in specialty coffee through its coffee franchise alternative program. In 2007, Crimson Cup opened its first company-owned coffee house, which joined a network of more than 350 independent coffee houses, grocers, college and universities, and food service operations across 28 states that serve Crimson Cup beverages. For more information, visit crimsoncup.com.