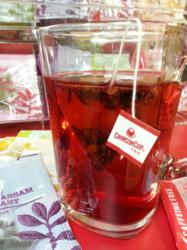 Unlike conventional tea bags, our sachets offer more room for the tea leaves to expand, ensuring better release of flavor from the larger leaves of loose-leaf tea. - Greg Ubert
Columbus, Ohio (PRWEB) June 28, 2013
Crimson Cup Coffee and Tea, a Columbus-based coffee roaster and coffee franchise alternative, has launched a new line of loose-leaf tea sachets. Packaged in an attractive counter-top display showcasing eight tea varieties, the sachets offer a convenient way for coffee shops and restaurants to serve the company's traditional and herbal tea infusions.
"Crimson Cup tea sachets combine the distinctive taste of our premium loose-leaf tea with the convenience of a tea bag," said Founder and President Greg Ubert. "Unlike conventional tea bags, our sachets offer more room for the tea leaves to expand, ensuring better release of flavor from the larger leaves of loose-leaf tea."
Crimson Cup introduced its line of loose-leaf teas in 2012 in response to growing consumer demand. "On any given day, more than 160 million Americans are drinking tea, and there is an emerging tea culture reminiscent of the café culture of the 1980s," Ubert said. "Savvy coffee shops and restaurants cater to this growing audience with an array of specialty teas."
To create its loose-leaf teas, Crimson Cup blends the finest ingredients to create intriguing natural flavor combinations. "We handcraft these unique flavors to tempt the discriminating palates of tea drinkers, while being thoughtful of potential health benefits in the combinations," Ubert said.
Crimson Cup's premium loose-leaf teas are available as bulk tea or in the new sachets. The sachets and their outer envelopes are 100 percent biodegradable. Varieties include:
Organic Estate Assam Breakfast Tea – A smooth organic black tea with a malty and bold flavor and mild fruit undertones.
Organic Earl Gray Tea with Lavender – A smooth, full-bodied organic black tea with bergamot overtones.
Masala Chai Tea – An Indian spiced, aromatic black tea that tastes great served with milk.
White Pomegranate – A refreshing and gently sweet white tea flavored with natural pomegranate
Sensory Safari Tea – A sweet citrus, naturally caffeine-free Rooibos infusion that is high in antioxidants and has a hint of spice flavor.
Ohio Peppermint Tea – A cool, refreshing herbal tea that blends well with other tea varietals.
Crimson Berry Tea – A rich, tart and fruity herbal tea.
Dream Maker Tea – A soothing, flavorful herbal tea that is pleasantly sweet.
Jasmine Dragon Pearl Green Tea – A sweet, smooth and fresh green tea with jasmine fragrance.
Organic Mao Jian – A light vegetal organic green tea with sweet undertones and mild astringency.
To learn more about Crimson Cup's loose-leaf teas, hand-roasted coffees and other products, call 888-800-9224.
About Crimson Cup Coffee & Tea
Since 1991, Crimson Cup Coffee & Tea has roasted great-tasting specialty coffee in Columbus, Ohio and taught independent business owners how to be successful through its coffee shop franchise alternative program. Hand-roasted in small batches, Crimson Cup coffee, tea and other products are available through a network of more than 350 independent coffee houses, grocers, college and universities, restaurants and food service operations across 28 states, as well as the company's own Crimson Cup Coffee House in the Columbus suburb of Clintonville. For more information, visit http://www.crimsoncup.com.