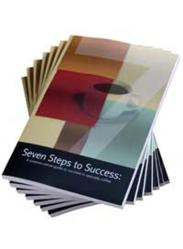 Customers form an immediate first impression when entering your coffee house, and cleanliness accounts for a big part of that impression.
Columbus, Ohio (PRWEB) September 26, 2012
Now, more than ever, clean translates into green when operating a coffee shop business, according to Greg Ubert, founder and president of Crimson Cup Coffee & Tea, a coffee roaster and coffee business consultant that offers a coffee shop franchise alternative with no franchise fees, royalties or business restrictions.
"When the economy is less than robust, competition for each customer increases," he said."Serving great-tasting products is not enough; you must polish each element of the customer experience until it shines.
"Customers form an immediate first impression when entering a coffee house, and cleanliness accounts for a big part of that impression," he added. "The first impression either sets the foundation for a lasting customer relationship or flashes a 'stop' sign in the customer's mind. That's why your coffee house should sparkle every minute of every hour of every day."
Ubert, who has helped to establish hundreds of independent coffee houses since 1991, believes cleanliness is so important that he devoted a chapter of his book, Seven Steps to Success in the Specialty Coffee Industry, to maintaining a sparkling coffee house. The following tips are excerpted from the book.
Cleanliness starts when pulling into the parking lot. Train staff to observe their surroundings. When they arrive at work, ask them to scan the exterior of the business, pick up any trash and note any landscaping issues such as overgrown grass or untrimmed bushes.
Set up shift checklists. Each shift should function as if they are opening and closing the store for the day. This helps keep the store clean throughout the day and ensures the dirty work doesn't get dumped on the third shift.
If there's time to lean, there's time to clean. When there is a lull in customers, the barista and cashier should wipe down counters and tables, straighten chairs, pick up magazines and newspapers, dispose of trash and clean the floors.
Pay constant attention to the condiment station. It's the biggest mess magnet in the coffee house, so it not only needs to be stocked frequently, but also needs to be tidied at all times.
Keep the silver shining and the china sparkling. Make sure to keep glasses, cups, plates and flatware clean and ready for use. Discard chipped and cracked items, which make a poor presentation and present the risk of injuring customers.
Out of sight can't be out of mind. Instruct each employee to check the outside of the business regularly, especially in shops that offer outdoor seating. Keeping the outside picked up and orderly reflects just as critically upon the business as that first step inside the door.
Follow maintenance schedules. Espresso machines, grinders, blenders and other equipment have maintenance schedules. Following those schedules religiously can preserve the life of equipment and will definitely protect the quality of the product you are serving to each and every customer.
Always be prepared for health and safety inspections. Depending on locale, the health department may pop in for an unplanned inspection. Don't be caught with inadequate facilities, which could lead to fines and, at times, closure of your business until the necessary issues are resolved.
Ubert shares more detail about these and other procedures for maintaining a sparkling – and profitable – independent coffee house in Seven Steps to Success in the Specialty Coffee Industry. Based on Ubert's experience in consulting with hundreds of independent coffee shops, the book is the foundation of Crimson Cup's 7 Steps Coffee Franchise Alternative program.
"We offer everything a coffee franchise does – and more – but without franchise fees, royalties or business restrictions," he said. "And, our consulting program is equally effective for those interested in starting a new coffee shop or existing coffee house owners.
"We help create a solid coffee shop business plan that covers all the bases, from choosing a location to purchasing equipment, developing a menu, hiring staff and much more," he added. "And we include comprehensive, free on-site training to ensure each shop gets off to a great start."
To learn more about the 7 Steps coffee franchise alternative program or to schedule an initial consultation, call 888-800-9224 or fill out this form on the Crimson Cup website.
About Crimson Cup Coffee & Tea
Since 1991, Crimson Cup Coffee & Tea has roasted and packaged quality, great-tasting coffee in Columbus, Ohio and taught independent business owners how to be successful in specialty coffee. In 2007, Crimson Cup opened its first company-owned coffee house, which joined a network of more than 350 independent coffee houses, grocers, college and universities, and food service operations across 25 states that serve Crimson Cup beverages. For more information, visit crimsoncup.com. ccct09252012
###