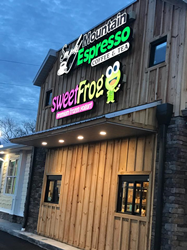 Having no coffee experience I would have never opened a shop had I not found Crimson Cup, [which] offered everything we need … service, expertise, quality and thorough help! - Michael Williams, Smoky Mountain Espresso
COLUMBUS, Ohio (PRWEB) December 11, 2018
Columbus coffee roaster Crimson Cup Coffee & Tea recently welcomed Smoky Mountain Espresso Coffee & Tea in Sevierville, Tennessee to the group of independent coffee shops, cafés and bakeries it supports in 37 states. The shop at 1259 Middle Creek Road is one of at least 18 new independent coffee shops scheduled to open in 2018 through Crimson Cup's 7 Steps to Success coffee shop franchise alternative program.
"We're excited to welcome Owners Michael and Karen Williams and their team to the Crimson Cup community," said Founder and President Greg Ubert. "Helping entrepreneurs like Michael and Karen open their own unique independent coffee shops is a big part of our mission as a coffee roaster and coffee shop franchise alternative."
Smoky Mountain Espresso Coffee & Tea got its start when the couple was looking for a quality business to pair with their Sweet Frog Frozen Yogurt franchise. The franchise was housed in a custom built dual-usage commercial property with a drive-thru.
"When our business consultant asked why we wanted to start a coffee shop, I responded, 'I can't find a good cup of coffee!'" said Karen Williams. "I was thinking, 'If I can't find it, there are probably other folks looking for it, too.'"
With little knowledge about the specialty coffee trade, the couple began searching for advice on how to open a coffee shop. "We love great coffee but dislike the major chains," Michael Williams said. "We wanted to create a super friendly warm atmosphere with a great product where you can enjoy your customers. And of course we want to make more money!"
A web search connected them with Crimson Cup Coffee & Tea and its 7 Steps to Success coffee franchise alternative program. Based on Ubert's book, Seven Steps to Success in the Specialty Coffee Industry, the 7 Steps program has helped hundreds of independent coffee shops open and stay and business.
"Having no coffee experience I would have never opened a shop had I not found Crimson Cup," Michael Williams said. "Crimson Cup offered everything we need … service, expertise, quality and thorough help!"
As they worked through the 7 Steps, the couple found Step 3, "Get the Right Coffee Shop Products and Equipment," most helpful in opening their coffee shop. They said the company supported them at every step of the way. "Accessibility of help, ease of ordering, professionalism, training and superiority of products are among the reasons we love doing business with Crimson Cup!" said Karen Williams.
Smoky Mountain Espresso serves a full menu of hot, iced and frozen espresso drinks – including mochas, lattes and cappuccinos – as well as iced coffee and tea, cold-brewed coffee, hot chocolate, fruit smoothies and other custom drinks. The shop also has Crimson Cup Nitro cold brew on tap. An assortment of fresh-baked muffins, bagels and other goodies from Crust & Crumb Bakery in nearby Gatlinburg rounds out the menu.
The signature Smoky Mountain Mocha Freeze, which blends white chocolate and caramel sauces with espresso and ice, has been a big hit with the Williams and their customers.
The coffee, roasted by Crimson Cup, has won rave reviews from local coffee lovers, Karen Williams said. "Our customers say the coffee is the best they've ever had and that we are the best coffee shop they've ever visited." With over 100 reviews, the shop has a 4.94 rating on Facebook.
Crimson Cup's coffee has been judged among the best in the nation. The roaster was named 2016 Macro Roaster of the Year by Roast magazine. Its Ethiopian Kossa Kebena coffee won a 2017 Good Food Award and is a finalist for a 2019 Good Food Award. Crimson Cup coffees have also brought home trophies and medals from the America's Best Espresso competition and Golden Bean North America roasting competitions.
When asked for advice for aspiring coffee shop owners, Michael Williams said, "Spend the extra on creating the right atmosphere. It's paying off for us!"
"Definitely add the Nitro Cold Brew," he added. "It's a big hit and great connecting and talking point. I also advise a drive-thru if at all possible."
About Crimson Cup Coffee & Tea
Columbus, Ohio coffee roaster Crimson Cup Coffee & Tea is Roast magazine's 2016 Macro Roaster of the Year. Since 1991, Crimson Cup has roasted sustainably sourced specialty and craft coffee in small batches, which it sells directly to consumers and as wholesale coffee beans. The company also teaches entrepreneurs to run successful coffee houses through its coffee franchise alternative program, which includes a coffee shop business plan. Crimson Cup coffee is available through a community of more than 350 independent coffee houses, grocers, college and universities, restaurants and food service operations across 37 states, Guam and Bangladesh, as well as the company's own Crimson Cup Coffee Houses. To learn more, visit crimsoncup.com.