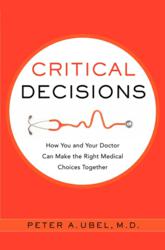 Critical Decisions provides patients and family members with the tools necessary to make confident decisions about their health and well-being.
San Francisco, CA (PRWEB) September 04, 2012
Illness and disease often force people to face incredibly complex and emotional choices. It is natural for patients to value and rely on their doctors' advice in such frightening situations. Even so, the jargon that doctors espouse and the myriad treatment options available for patients can be overwhelming and confusing.
Now in his new book, Critical Decisions: How You and Your Doctor Can Make the Right Medical Choices Together (HarperOne; September 2012; Hardcover; $26.99; 368 pages), Peter Ubel, a physician, behavioral scientist, and bioethicist at Duke University, presents a groundbreaking argument that will redefine the doctor-patient relationship.
Examining actual medical cases from Karen Ann Quindlan to his own wife's diagnosis of breast cancer, Ubel identifies the need for true collaboration between doctors and patients calling for a "shared decision-making movement." According to Ubel, it's not just about educating and motivating patients, which was achieved during the patient empowerment movement in the 1970s. It is also about preparing physicians to interact with informed patients. Ubel supports a system-wide shift beginning with reconsidering who is admitted to medical schools and said schools' curricula. He advocates retraining doctors about patient psychology, communication, and behavior. His persuasive evidence is underscored with the startling link between doctors' poor communication skills and incident rates of malpractice litigation.
Whether diagnosed with cancer, trying to understand the side effects of medication or caring for a loved one, everyone confronts the medical establishment at some point in life. Critical Decisions provides patients with the tools necessary to make confident decisions about their health and well-being.
ABOUT THE AUTHOR
Dr. Peter Ubel is a physician and a behavioral scientist at Duke University. He is the author of three previous books: Pricing Life (MIT Press, 2000); You're Stronger Than You Think(McGraw-Hill, 2006); and Free Market Madness: Why Human Nature is at Odds with Economics--and Why It Matters (Harvard Business Press, 2009). He has contributed to The New York Times, The Los Angeles Times, Psychology Today, and The New England Journal of Medicine, among other publications.
CRITICAL DECISIONS
How You and Your Doctor Can Make the Right Medical Choices Together
By Peter Ubel
HarperOne, an imprint of HarperCollinsPublishers
September 2012 | Hardcover |$26.99 | ISBN: 9780062103826