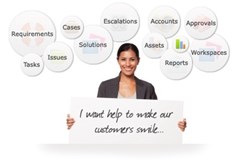 CRM Software Introduces Advanced Queue Management
Delhi (PRWEB) August 28, 2013
CRMnext introduced advanced queue management tools for effective and efficient sales lead management. Separate groups of users, each with their unique set of criteria like territory, product, role, etc., can be created and assigned leads on basis of multiple criteria like round-robin or preconfigured basis, thereby considerably lowering conversion time and ratios through effective follow-ups using the CRM software.
These 'queues' can be configured while creating Lead Assignment Rules to ensure streamlined distribution of leads to the best suited sales representative also depending on the number and quality of existing leads handled by the respective representative. A 'Weightage' option is also displayed for each member of a queue which ensures effective assignment of critical records to the most suited salespersons in the queue.
"The new queue management tool facilitates to optimize the distribution of leads through a single interface. A listing section can also display all the active/ inactive lead queues. A specific time period can be assigned to a queue during which it will remain 'active' and 'Working Days' can be specified for each member of the queue. This will significantly improve the lead conversion ratios especially in a high volume lead environment," said, Dr. Manoj Kumar, Product Architect, CRMnext.
About CRMnext:
CRMnext is a specialist Customer Relationship Management product company with focus on ultra-scalable installations. CRMnext team has proven track record of delivering High-Impact CRM solutions in their key practice vertical of Financial CRM, Banking CRM, Insurance CRM, Media CRM, Pharma CRM, Telecom CRM, etc. Unlike commodity CRM, CRMnext has been widely recognized as a proponent of strategy driven implementations.
CRMnext offers solutions on 'Commutable Cloud'; giving customers the choice to run CRM solutions seamlessly on-premise as well as on cloud.
To know more about CRM Software; Visit http://www.crmnext.com/