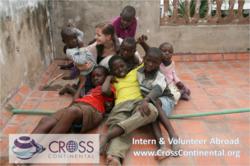 Cross-Continental Solutions' affordable programs and informative fundraising tips help more international volunteers and interns realize their life-long dreams.
Vancouver, BC (PRWEB) November 20, 2012
Volunteering and interning abroad are becoming increasingly popular since participants can gain valuable work experience, while contributing to the global community. Such travel has become one of the trendiest options among people taking a gap year or career break. Even the most affordable programs, however, have costs associated with accommodation, meals, support, and airfare, which can make volunteering abroad prohibitively expensive for some people. Fortunately, Cross-Continental Solutions has recently released a free E-book that contains some helpful tips, along with detailed advice for volunteer abroad fundraising.
Some of the most important tips to raise money successfully are:

Register with a Meaningful yet Affordable Program
It is important to register with a program first since this will give credibility to the fundraising project. Participants should choose a quality yet affordable volunteer abroad program. Be aware that many organizations charge thousands of dollars for just a couple of weeks abroad, and such huge program fees alone will make the fundraising task a lot harder to achieve. Very few organizations provide affordable yet quality international programs, but they are out there, so it's important to explore all the options. In fundraising letters and online fundraising sites, always provide the hosting organization's web link and project information in order to gain credibility for fundraising.
Try to Approach as Large an Audience as Possible
Make a list of all available contacts. This list might include personal contacts, professional contacts, groups, and even organizations. Even if some people don't have the financial ability to help, it never hurts to ask and at least get the word out. The ultimate goal is to reach those who are interested in the cause.
Have Good Reasons for Volunteering
A passion to help those less fortunate and a desire to make a difference in the global community will bring in donations. Write out good reasons for volunteering and always keep these reasons in mind while fundraising.
Write Well Targeted Letters
In the fundraising letters, give some background information on the project, explain the reasons for volunteering abroad, invite people to the online fundraising site and to fundraising events, and indicate clearly how to donate. This letter can be sent by email or by traditional mail or both. Try to keep the letters and emails short, simple, and pleasant.
Ask for Specific Donation Amounts
Share the fundraising goal and highlight specific donation amounts in the fundraising letters, from $5 to $500. Keep in mind that most people will check the lowest amount possible.
It can be a good idea to hold a simple house warming or tea party since some people are more giving when they have face to face communication. Such events are meant to raise awareness about volunteering abroad while at the same time fundraising. Try to be creative and make the event fun to attend. Show people how their small contributions can go a long way overseas.
Offer Something in Return
It is always smart to offer would-be benefactors something in return. It can be as simple as diary via email or sharing pictures/videos. For companies or other organizations, a presentation about the experience or an offer of free publicity upon return can often be nice.
Create a Sense of Urgency and Always Follow Up
Give potential sponsors a deadline and send friendly reminders with the fundraising progress. Sharing the progress will motivate people to donate. It is important to send reminders and follow up as people tend to forget.
Have a Goal and Create Benchmarks
Develop a fundraising plan as early as possible. For each fundraising activity and for each time period, set up a goal with a target amount to raise. After each activity and time period, compare the actual amount raised to the initial goal. It is important to remember what works and do not repeat mistakes.
Make it Convenient for People to Donate
To make it easy for these who want to donate by credit card, you should have an online fundraising site. The fundraising site also grants easy information access to potential donors. More details on this matter can be found in the free fundraising E-book.
Fundraising can be a fun and fulfilling experience. However, fundraising may not be the most ideal solution for everyone since it takes dedication and effort. Some people simply prefer to save up first instead of asking for sponsorships. For more detailed instructions, sign up for the free fundraising E-book at http://www.CrossContinental.org and get the complete E-book via email.
About Cross-Continental Solutions:
Cross-Continental Solutions provides quality yet affordable volunteer abroad, intern abroad, cultural education, and language immersion programs, ensuring an exceptional cross-cultural experience for those who wish to make a difference.