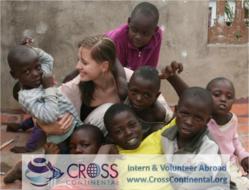 Cross-Continental Solutions' informative tips help international volunteers deal with reverse culture shock.
Vancouver, BC (PRWEB) March 19, 2013
Overseas internships and volunteer abroad programs are becoming increasingly popular. Many travelers are made aware of the possibility of culture shock when traveling in a foreign country, but there is a lesser known occurrence that can be equally problematic: reverse culture shock. Reverse culture shock, also known as "Re-entry Shock", occurs when a traveler grows so accustomed to a foreign culture that they have difficulty readjusting to their native culture upon returning home. Travelers are typically unprepared for reverse culture shock and often find it difficult to find assistance in dealing with this issue since it occurs after the volunteer abroad program has ended.
Cross-Continental Solutions has recently released a free E-book to help overcome reverse culture shock. Some of the most important tips are:

Relearn the Home Environment and Adapt to Changes
While away, things probably have changed back home. Accepting these changes may be difficult and daunting, especially after an extended stay abroad. It can help to keep an open mind and expect the possibility of some changes. For example, the close friend from across the street may have moved away for college or developed a new relationship. Try not to blame people or circumstances for these changes and accept them as inevitable.
Conversely, the new life perspective gained by international volunteers causes some travelers to change in important and fundamental ways. It is imperative that family and friends are allowed time to get to know the new person the traveler has become and try not to rush them.
During volunteer abroad trips or international internships, one may pick up local styles of talk and particular mannerisms. Try to remember that culture is shaped in response to one's particular social environment and some manners may not be appropriate in all cultures. As the old saying goes, when in Rome… do as the Romans. It can take time to re-connect to the speech styles and mannerisms of one's own country, and many travelers even find communicating in their native tongue difficult after speaking so long in a different language. However disconcerting these language difficulties may be, rest assured that with a little practice, one's previous language proficiency rapidly returns.
Do Not Expect Too Much Enthusiasm
It is natural to feel excited and upbeat upon return home from another land. While it's only natural for people to want to share all the exciting experiences with their friends and family, they may not share the same enthusiasm. While travelers may feel that their travel stories are by far the most interesting, that's only because it happened to them. Friends and family, have also had important experiences in their lives, and while they might be interested in some of the trip details, they will quickly grow tired of the conversation if that's all the traveler wants to talk about. It is important the home bound travelers be wary of over-doing the travel stories and neglecting the experiences of their loved ones.
Network with Those who Share Similar Experiences
It may be lonely for people who have newly arrived back home, especially when their experiences are met with a less than enthusiastic reception from family and friends. It can be easier to share these experiences with people who have had similar experiences. One can find such connections through local networking groups or by maintaining links with other travelers with whom u volunteered abroad.
Keep Busy and Find Excitement from Home
Travelers should rest well after traveling, but it is not recommended for them to stay idle for long. When travelers return home, boredom typically kicks in after the initial honeymoon stage when they are welcomed by family and reconnected with certain amenities (such as their car or dryer).
Luckily, travelers can control how long they want to stay idle. Maybe it's a good time to start a new career, write a book, start a travel blog, or even plan another trip. After the initial honeymoon stage at home, going through the readjustment stage can be easier if one is kept busy and making progresses in life. Excitement doesn't just happen abroad and can be found wherever it's looked for.
The desire to "fit back in" to one's native culture can be strong, but it important that the traveler not sacrifice the memories of their experience in order to re-conform to society. Treasure the memories from abroad by making a photo album or organized travel diaries. International volunteers often report that their experiences change them. It is therefore important to keep such memories fresh in one's mind and keep the changes that were for the better.
Reverse culture shock can have negative impacts on people's lives if it is not dealt with appropriately. For more informative advice and resources, sign up for free E-books at http://www.CrossContinental.org and get great tips via email.
About Cross-Continental Solutions:
Cross-Continental Solutions provides quality yet affordable volunteer abroad, intern abroad, cultural education, language immersion, and gap year programs. It is unique in that participants live and work side by side with the local people. Programs are available at many locations around the world, including Africa, Asia, and Latin America.